Arroyo's easy effort keeps Reds rolling vs. Cubs
Arroyo's easy effort keeps Reds rolling vs. Cubs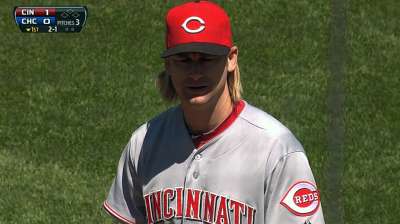 CHICAGO -- The Reds are sometimes criticized for lacking a winning record against the teams with better-than-.500 marks, but the wins don't count any less when an opponent is struggling.
At this point of the season, just beating whatever team is on the schedule is more paramount than ever. The Reds have certainly been doing that of late. Wednesday's smooth 5-0 win against the lowly Cubs completed a three-game series sweep. Cincinnati has won four in a row, seven of their last eight and eight of their last 10.
"If you don't have any [momentum] right now with this stretch we've got coming up against some teams that are not on the top of their game, we probably will never get any," said Reds starter Bronson Arroyo, who gave up just two singles over seven innings and struck out seven without walking a batter.
Although they are 20-30 against plus-.500 teams, the Reds improved to 48-22 against teams with losing records. Chicago, which has lost nine of its 10 games against the Reds at Wrigley Field, has also been shut out at home in four of its past five games.
Arroyo, who faced the minimum number of batters over his first six innings, retired the first nine Cubs in a row. David DeJesus led off the fourth inning with a clean single up the middle, but was promptly erased when Darnell McDonald grounded into a 4-6-3 double play.
"Today I wasn't really in trouble too many times," Arroyo said. "The one double play ball was really big. It kept my pitch count low and things worked out for us."
Chicago's next nine batters were retired in order until McDonald returned in the seventh with a one-out single off the glove of diving second baseman Brandon Phillips.
"It's unbelievable the way he pitches," Reds third baseman Todd Frazier said. "I can't understand how he does it. Everybody is off-balance. I know I'm going to get ground balls, so I'm ready all the time and he's still striking guys out. It's pretty cool to watch and see a guy like that just work his craft. It's genius, basically, what he does."
Two batters into the game, the Reds had a 1-0 lead off Cubs lefty Chris Rusin courtesy of Frazier's first-pitch homer over the left-field bleachers onto Waveland Avenue. Rusin retired 12 of the next 13 batters in a solid effort before the Reds struck again in the fifth.
Zack Cozart hit a one-out single on the ground into left field before Ryan Hanigan sent an RBI double to right-center field out of the reach of a diving DeJesus. Rusin was done after six innings with three hits allowed and only 76 pitches.
Cincinnati used four doubles over the final two innings to add three more runs. Cozart rolled a RBI double just inside the left-field line in the seventh, and Frazier and Joey Votto hit back-to-back RBI doubles in the eighth.
Even with only 92 pitches, Reds manager Dusty Baker lifted Arroyo before the Cubs' eighth in favor of Alfredo Simon. The Cubs didn't have a baserunner reach second base until the ninth, when DeJesus was hit by a Jonathan Broxton pitch and took second on defensive indifference.
"There's a time and place to go back out there for the eighth with 92 pitches," said Arroyo, who has allowed one run over his last 14 innings. "And there's a time and place to bow out. It's late in the year, and if you can save a few bullets for later on in September, when we're really going to need them against a team like the Cardinals or something, it's nice to go out there and have kind of an easy outing as far as not beating my body down physically. It was a good chance to get out of there."
The Reds now head to face the National League Central's last-place team in Milwaukee, offering another chance to keep the success going.
"It starts with one," Reds manager Dusty Baker said. "You can't roll unless you start rolling. It sounds kind of corny, but it's true."
Last Thursday, Cincinnati was a season-high seven games behind the first-place Pirates, but entered Wednesday 3 1/2 games out of first place and 1 1/2 games behind the second-place Cardinals. Pittsburgh and St. Louis are playing a three-game series against each other at Busch Stadium, where the Cards took the opener.
The remaining schedule gives the Reds seven more games against the Cardinals and six against the Pirates.
It's no coincidence that the Reds ignited on the heels of a 15-2 drubbing at the hands of the Cardinals at Great American Ball Park on Aug. 4.
"That game we got beat badly by St. Louis really got us going, that game where we were embarrassed," Baker said. "Sometimes a team has to hit rock bottom before you can start rolling. That was the lowest point in time of our season so far."
Mark Sheldon is a reporter for MLB.com. Read his blog, Mark My Word, and follow him on Twitter @m_sheldon. This story was not subject to the approval of Major League Baseball or its clubs.