Rox rest Rosario after hamstring injury
Rox rest Rosario after hamstring injury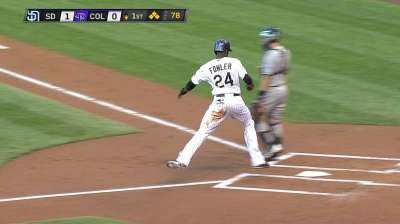 DENVER -- Wilin Rosario did not start Wednesday's game against the Padres but was available as a pinch-hitter while nursing a tweaked right hamstring.
Rosario said he injured his hamstring as he rounded third on his way home in the first inning of Tuesday night's 7-5 loss to the Padres. Rosario singled home the Rockies' first two runs in the first before the injury.
While not running the bases at full speed, he finished the game and said the hamstring tightness was only an issue running the bases and not catching. Rosario said Wednesday morning the pain had not increased, but he had yet to test it by running.
Rockies manager Walt Weiss said the catcher would have had the day off in place of Yorvit Torrealba even without the injury because Wednesday was a day game immediately following a night game. But Weiss also wanted to give Rosario some extra time to rest before the start of an Interleague series in Baltimore on Friday.
"It would be a lot of heat and ice, I'd imagine," Weiss said of treatment options. "Whirlpool and that type of thing -- there's not a whole lot you can do. Rest is probably the best thing."
Ian McCue is an associate reporter for MLB.com. This story was not subject to the approval of Major League Baseball or its clubs.