O's end road trip with third straight walk-off loss
O's end road trip with third straight walk-off loss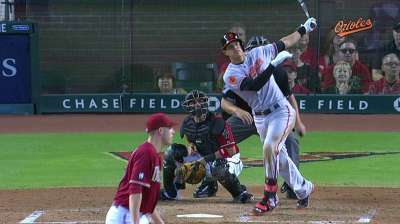 PHOENIX -- The Orioles can't get out of Arizona soon enough.
After blowing a save and serving up a game-winning homer in each of the first two games of the series, the Orioles were walked off the field for a third consecutive game Wednesday, falling, 5-4, at Chase Field on Aaron Hill's game-ending single up the middle in the 14th inning off Saturday's scheduled starter Bud Norris.
"We've had some tough ones before and we will again; it's part of the job description," Orioles manager Buck Showalter said. "Yeah, we're a little beat up, but no one is going to feel sorry for you. We'll survive and be better as a result of it. There's a lot of baseball left."
The loss meant that the Orioles, who began their eight-game West Coast swing winning four of their first five, ended the road trip with a 4-4 record courtesy of a stagnant offense that was held scoreless over the final 12 innings Wednesday and a bullpen that couldn't hold late leads in each of their three games in the desert.
In its previous 16 innings before traveling to Arizona, the Baltimore bullpen allowed just one run. But in 13 innings in the series vs. the D-backs, it surrendered a combined 10 runs, including three on Wednesday.
"The world is full of people who come in after a war is fought and shoot the wounded. I'm not one of those guys," said Showalter, defending his relievers. "I'll leave that up to people who are outside of the arena."
Although every reliever in the Orioles' bullpen besides Francisco Rodriguez allowed at least one run during the series, Baltimore closer Jim Johnson accepted the brunt of the blame for his struggles in the ninth inning. The right-hander blew the save Tuesday and then gave up another run in the ninth Wednesday for his Major League-leading ninth blown save of the season.
"I wish I had a magic wand to make everything right, but nobody does. I'm just going to continue to work hard." Johnson said. "There's really no other option; giving up is not an option. I thought I executed and made the adjustments I was trying to make, but things just didn't work out."
After Johnson coughed up the one-run lead in the ninth on Hill's RBI single to left, he managed to settle down and send the game into extra innings, stranding the winning run at third base with one out, something that his manager took solace in.
"I'm real proud of the way he battled back," Showalter said. "He got us back in the dugout, we had chances to win the game after that. It's a team game."
Johnson, however, wasn't in the mood for small victories.
"The aftermath of that is putting a lot of guys in bad situations," Johnson said. "We had to use Tommy [Hunter] for three innings and obviously using Bud, that's just not acceptable."
Still, despite Rodriguez working his fifth consecutive scoreless outing Wednesday in the eighth, Showalter isn't ready to make a move in the closer's role.
"Am I going to sit Adam Jones because he had a rough day today? I, as a manager, can't live in that world," Showalter said. "We've got a lot of pieces in the chain that have to work, every club does. I'll be the first guy to make adjustments if they need to be made, but there's a lot of things we have to shore up besides that."
Pitching on the day he was scheduled to throw a side session in preparation for his next start on Saturday, Norris began the ill-fated 14th inning with eight consecutive balls to put runners on first and second with nobody out. He struck out the next batter, but then left a fastball over the middle of the plate to Hill, who sent it into center field for the walk-off.
"Bud's got great stuff, I know he's been pitching well and he's been locating a little better than in the past," Hill said. "So for me, it was just get the ball up and see if I can get something I can drive, and I got a fastball middle-away and put a good swing on it."
Norris declined comment after the game, but Showalter said it won't affect the rotation moving forward.
"He's fine, we knew he was going to be able to pitch a couple innings for us," Showalter said. "He throws more pitches on a work day.
The fault for the loss didn't fall solely on the pitching staff, however. After putting up a four-spot in the second inning off D-backs ace and National League All-Star Patrick Corbin, the O's went quiet the rest of the day, stranding nine men on base and going just 2-for-11 with runners in scoring position despite pounding out 14 hits.
One of several missed opportunities Wednesday, the Orioles had a chance to put the game on ice in the 10th inning, loading the bases with one out. But with the go-ahead run 90 feet away, Nate McLouth grounded into an inning-ending double play.
"We had some opportunities, but we couldn't quite do anything to get over the hump. We didn't put it away," Showalter said. "You can always look to a situation that would've made the game different. It's not for a lack of effort ... it's just not easy. You don't throw your hat out there and it happens."
Orioles starter Chris Tillman didn't have his best stuff Wednesday, but he managed to limit the damage to just two runs on five hits over six innings of work. With the bullpen as taxed as it was entering the game, the O's would've liked the right-hander to pitch deeper, but three walks and a bevy of foul balls escalated his pitch count into triple digits.
"It was OK; I struggled early on to get in a groove," Tillman said. "I got ahead of myself a little bit."
Following Tillman's exit, the D-backs cut Baltimore's two-run lead in half in the seventh inning, manufacturing a run off Brian Matusz and Darren O'Day when speedster Tony Campana bunted for a single, stole second base, moved to third on a wild pitch and scored on Martin Prado's RBI single to left. That set up Arizona's rally in the ninth and an opportunity to come all the way back for the win.
The Orioles have an off-day Thursday before returning home to face the Rockies this weekend, a series Showalter promised his club would be ready for.
"I guarantee you there are some guys in there that would love to play tomorrow to get this taste out of their mouths right away," Showalter said. "We had a 4-4 road trip. It could've been better, but we're looking forward to getting home in front of some friendly faces. We'll get after it."
Tyler Emerick is an associate reporter for MLB.com. This story was not subject to the approval of Major League Baseball or its clubs.