Mariners stung by Rays' series-evening rally
Mariners stung by Rays' series-evening rally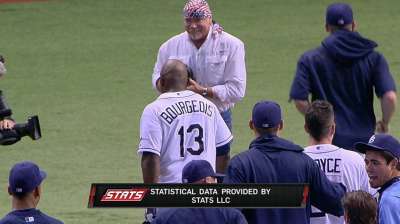 ST. PETERSBURG -- Danny Farquhar's perfect run as a closer came to an end on Wednesday night as the Rays rallied for a 5-4 walk-off win over the Mariners to snap a six-game losing streak.
Farquhar was sterling in converting his first five save situations since replacing Tom Wilhelmsen two weeks ago, but gave up a walk and four hits without getting an out one night after mowing down the Rays in order.
The 26-year-old rookie entered in the exact same situation -- a one-run lead facing the top of the lineup. But this time the Rays did damage against a youngster who had surrendered just four hits without a run in his previous 14 2/3 innings.
Interim Mariners manager Robby Thompson felt the Rays benefited by having the same hitters facing Farquhar for a second straight night, something that would have have been different if not for three walks by Yoervis Medina in the eighth that allowed Tampa Bay to get back to the top of its order despite not scoring in that frame.
"It is hard to get those last three outs a lot of times, no matter who you're running out there," Thompson said. "Medina did a good job of getting out of it in the eighth, but those walks kind of hurt because it flipped their lineup back up to the top and those guys had seen [Farquhar] last night. All that stuff comes into play."
Rays skipper Joe Maddon agreed.
"We just had to keep moving that conga line to try to get it back to the top of the batting order," Maddon said. "Even if you don't score prior to that moment, you have to keep it moving so the proper guys get up."
But Farquhar wasn't buying that as an excuse.
"Nah, I don't think so," Farquhar said. "It was just bad execution of a lot of pitches. Pitches up in the zone, middle of the plate ... Major League hitters take advantage of that situation."
Ben Zobrist tripled off the right-field railing to lead off the ninth and scored on a single by Matt Joyce to tie the game at 4.
Evan Longoria then doubled into the left-field corner to put runners on second and third. Farquhar intentionally walked Wil Myers to load the bases before Jason Bourgeois drove the game-winning single to right.
Thompson left no doubt that he'll stick with Farquhar as his closer despite the hiccup.
"We'll see how Danny bounces back," Thompson said. "He's been really good in that situation. Those kinds of things happen. But we'll be giving him the ball again."
Other than kicking himself for hanging a series of cutters that the Rays took advantage of, Farquhar sounded unfazed.
"The good thing is, I failed a ton in the Minors. I blew a lot of saves down there," he said. "Tomorrow is a new day. I'm a guy with a pretty short memory. I'll just forget about it and move on. There are 162 games, you can't dwell on one. I'll just move on and get 'em tomorrow."
The Mariners seemed in position to steal a win in what appeared a mismatch on paper, with a struggling Aaron Harang against Rays ace David Price. Harang was in position for the win after allowing three runs in five-plus innings, but wound up with a no-decision against a Rays team that now sits at 67-51.
Price, who had allowed just three earned runs over his prior four starts, gave up four runs in seven innings to a Mariners club that fell to 55-64.
Seattle's young infielders pushed Price in the fifth with a two-run triple by Brad Miller, followed by Nick Franklin's RBI double for a 4-1 lead.
The four runs equaled the most Price has given up in nine starts since returning from the disabled list on July 2 following a strained triceps. Since his return, he's 5-1 with a 1.77 ERA and is 6-5, 3.28 overall.
Harang gave up just one run in the first five frames, then got into trouble in the sixth when he surrendered four straight hits, including a two-run bomb by Myers. The 35-year-old said his right forearm tightened in the final inning, though he felt better following the game.
Charlie Furbush came on with no outs and two on and cleaned things up nicely, mowing down three straight Rays to preserve Harang's lead at 4-3.
"That was huge," Harang said. "Charlie came in and really picked me up right there. He got everybody in the dugout pretty fired up."
But on this night, the Rays rallied and the Mariners were left with just another learning moment for their young club.
"We have a catcher we picked up from Triple-A from the Phillies," Thompson said. "We have a closer coming in who has never closed before in the big leagues. We've got two middle infielders who just came up from Tacoma not long ago and they're hitting first and second. So a lot of good things are happening and we're moving forward.
"I think these guys are learning each and every day. These games and situations are only going to make them the better for it."
Greg Johns is a reporter for MLB.com. Follow him on Twitter @GregJohnsMLB as well as his Mariners Musings blog. This story was not subject to the approval of Major League Baseball or its clubs.