Bullpen can't contain Tribe on Mauer's big day
Bullpen can't contain Tribe on Mauer's big day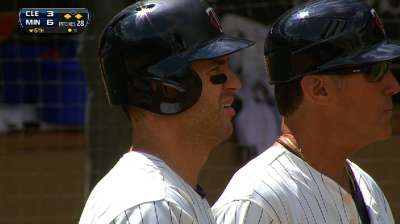 MINNEAPOLIS -- With a four-run lead in the eighth, the Twins appeared well on their way to a comfortable victory over the Indians on Wednesday afternoon at Target Field.
They handed the ball to right-hander Casey Fien, who has quietly emerged as one of the better setup relievers in baseball, owning a 2.92 ERA entering the game.
But it wasn't to be, as Fien surrendered four runs in the eighth, and the Twins eventually fell, 9-8, in 12 innings, despite a big day at the plate from Joe Mauer.
The rally was keyed by an error from first baseman Justin Morneau on a potential double-play ball, before Jason Giambi launched a three-run shot that just barely cleared the fence in right field to tie the game.
"It was a tough one," Twins manager Ron Gardenhire said. "We haven't seen our bullpen run into trouble very often, especially Casey. He's been lights out and one of the better setup guys in the role. But he just got a couple pitches up, and one went through Morneau. You always know if you miss a play, it could come back to get you."
Michael Brantley then brought home the go-ahead run for the Indians in the 12th inning with a sacrifice fly off reliever Ryan Pressly, who gave up back-to-back singles to Nick Swisher and Jason Kipnis to open the inning. Right-hander Joe Smith closed out the victory for the Indians, retiring Mauer for the final out.
Mauer couldn't replicate the magic from the 10th inning, when he tied the game with a solo shot off closer Chris Perez following Carlos Santana's solo homer off Glen Perkins in the top of the frame. It was Mauer's fifth hit of the game, which tied a career high and was his first five-hit game since July 26, 2010.
"It was a tough loss today," said Mauer, who went 5-for-7 with four RBIs. "I wish it would've shown for something."
Mauer's impressive showing was for naught with Fien struggling in the eighth. He gave up a leadoff single to Kipnis before Santana reached on Morneau's error. Brantley came through with an RBI single before Giambi's three-run homer tied the game.
"I threw a cutter," Fien said. "I left it up and over the plate, right into his swing. He's a dead-pull hitter. I missed my spot. I'm a strike-thrower, but it wasn't a quality strike."
"G's was obviously a huge one," said Indians manager Terry Francona. "We pecked away and worked our way back into the game, then they scored the two and kind of spread it out. G, with just a huge hit."
Mauer helped the Twins to an early lead, singling in his first at-bat against Indians right-hander Carlos Carrasco and scoring on a sacrifice fly from Josh Willingham after a double from Morneau. Morneau then scored on a two-out double from Oswaldo Arcia.
He was at it again in the second inning with an RBI single, after Brian Dozier drove home a run with a one-out single, giving the Twins a 4-0 lead.
The Indians finally got on the board with two runs in the fourth on a broken-bat, two-run single from Mike Aviles with two outs after Santana was hit by a pitch and Giambi singled.
Cleveland made it a one-run game with a run in the sixth inning against Kyle Gibson, as Brantley plated Kipnis with a one-out single to center field. Gibson then walked Giambi to put two runners on with one out, and he was removed in favor of reliever Josh Roenicke. Roenicke was able to get Aviles to fly out to center field before left-hander Caleb Thielbar was called on to face Asdrubal Cabrera, who struck out to end the inning.
"My pitch count was low enough, if I could've got out of trouble, I could've pitched into the seventh," said Gibson, who gave up three runs on six hits and two walks over 5 1/3 innings. "But I have to pitch well enough for them to keep me out there."
Mauer gave the Twins some cushion with a two-run single with the bases loaded in the sixth inning. Minnesota added another run in the seventh, when Chris Colabello laced an RBI single with one out off reliever Matt Albers. But the insurance runs proved to be not enough, considering the bullpen's struggles.
"Joe had a big day for us, and Morny had a big day for us. We scored enough runs," Gardenhire said. "Unfortunately, for the first time in a long, long time, our bullpen couldn't hold a lead."
Rhett Bollinger is a reporter for MLB.com. Read his blog, Bollinger Beat, and follow him on Twitter @RhettBollinger. This story was not subject to the approval of Major League Baseball or its clubs.