Pitching to contact helping strikeout artist Fernandez
Pitching to contact helping strikeout artist Fernandez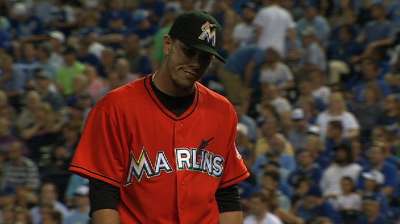 KANSAS CITY -- Perhaps the most encouraging aspect of Jose Fernandez's latest performance was that he required just 94 pitches to get through seven shutout innings against the Royals on Tuesday.
Fernandez has continually demonstrated that he has swing-and-miss strikeout stuff. But if he can get hitters to put the ball in play early in the count, it bodes well for a deeper outing. Fernandez had six strikeouts on Tuesday.
"I think he's going to have games where he strikes out more against certain teams," Marlins manager Mike Redmond said. "This [Royals] team is pretty scrappy. They shorten up and put balls in play. They rely a little more on their speed.
"Jose understands that he has limited bullets. He has to be aggressive, and the best way to do that is go out there and let them put the ball in play. He was able to do that. He got a ton of rollovers."
The 21-year-old Fernandez is on an innings limit of about 170 in his first Major League season. He has 97 strikeouts since June 1, which ties New York's Matt Harvey for first in the National League over that span.
"He didn't get a lot of strikeouts [Tuesday], and that's OK," Redmond said. "There will be other games where he'll strike out guys. When he can get through the seventh inning, that's a great effort."
Robert Falkoff is a contributor to MLB.com. This story was not subject to the approval of Major League Baseball or its clubs.