Padres allow some flexibility developing young arms
Padres allow some flexibility developing young arms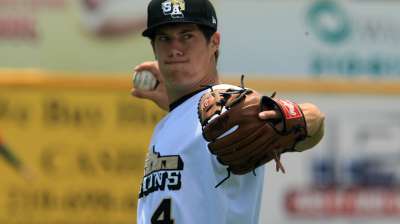 DENVER -- It is the time of year when Minor League pitching prospects are starting to reach their ceiling as far as innings go.
For the Padres, this does not necessarily mean a hard cap for innings for pitchers like Matt Wisler, rated the organization's No. 5 prospect by MLB.com, as well as Burch Smith (No. 9) and the three highly regarded prospects with Single-A Fort Wayne -- Max Fried (No. 1), Zach Eflin (No. 12) and Walker Weickel (No. 18).
That was not always the case, though.
When former general manager Jed Hoyer and former assistant GM Jason McLeod were in charge, the Padres had a firm number of innings a pitcher was allowed to throw. Hoyer and McLeod moved on to the Cubs after the 2011 season.
"We used to have a hard and fast innings limit, period, without taking into account how they do it," said Randy Smith, the team's vice president of player development and international scouting. "Some guys do it a lot easier. Now, it's more of a hybrid of pitch-count and innings.
"Before, it was a 20 to 30-inning increase from one year to the next. It was a hard and fast number. There was a start a few years ago where [Casey] Kelly was through five innings and had 48 pitches, and we took him out. Some people were surprised. But those were the marching orders."
This is not something the Padres look at on the fly.
Smith and others in the organization, such as Padres GM Josh Byrnes, assistant GM A.J. Hinch, Minor League field coordinator Randy Johnson and Minor League pitching coordinator Mike Cather discussed this prior to the season, before implementing their plan.
The workload of each pitcher in the system is then monitored.
"We want to give guys a chance to pitch deeper into games but still protect their arms," Smith said.
In Class A Fort Wayne, the Padres implemented a six-man staff. That way, Fried, Weickel and Eflin -- who are all in their first full professional season -- will all be available to pitch during the playoffs. Of that group, Eflin has the most innings (107 2/3).
"With that extra day in there, these guys are sometimes pitching once a week," Smith said.
Then there's Wisler, who began the season with Class A Lake Elsinore and is now in San Antonio. In the case of Wisler, who was scheduled to start Wednesday, he got a little tired toward the end of the 2012 season. That was something the Padres are watching.
"In Double-A, because we've got some young pitchers there, we'll give you 11 innings to work over two starts," Smith said. "That gives the manager some discretion. Now that we're getting to the end, with some playoff starts coming, it's a balancing act.
"We're gauging how guys feel and buying them extra rest if needed."
Corey Brock is a reporter for MLB.com. Keep track of @FollowThePadres on Twitter. This story was not subject to the approval of Major League Baseball or its clubs.