Guerrier seeks second opinion on muscle tear
Guerrier seeks second opinion on muscle tear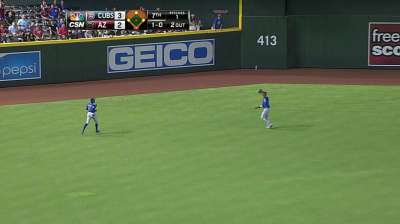 CHICAGO -- Cubs reliever Matt Guerrier is waiting for a second opinion on his right elbow, which forced him out of an Aug. 7 game against the Phillies and ended his season. The Cubs' doctors have told Guerrier he has a tear on his pronator teres muscle of his right elbow, an injury which would require surgery.
"They said the ligament looked good and everything else looked good for my age and the amount of games and innings," Guerrier said Wednesday. "Typically, with someone who is not a pitcher, you could let it go. [The doctor] mentioned that for a pitcher, it's something you definitely want to get fixed, because it will bother you for a while."
The rehab time is projected to be about six to eight months, which is less than the recovery time for Tommy John surgery. Dr. Tim Kremchek, the Reds' orthopedic specialist, will also examine Guerrier's test results.
Guerrier was one of three Cubs injured in the seventh inning against the Phillies. Outfielder Thomas Neal suffered a dislocated right shoulder on a throw, and catcher Dioner Navarro bruised his right ankle in a collision at home plate. Navarro had to be carted off the field, but he is the only one of the three who did not wind up on the disabled list.
"I probably should've just come out of the game, but I felt something similar to it before and thought I could battle through it," Guerrier said. "The way it hurt, it was definitely more than usual, but I didn't know what was going on until after. It was so swollen, I knew something was wrong with it."
The right-hander said he's been dealing with discomfort in his elbow for some time.
"Hopefully I can get it fixed and hopefully get a chance to come back here on a Minor League deal or something next year and have an opportunity to help the team again," he said.
Carrie Muskat is a reporter for MLB.com. She writes a blog, Muskat Ramblings, and you can follow her on Twitter @CarrieMuskat. This story was not subject to the approval of Major League Baseball or its clubs.