Soriano's seven RBIs power Yanks past Halos
Soriano's seven RBIs power Yanks past Halos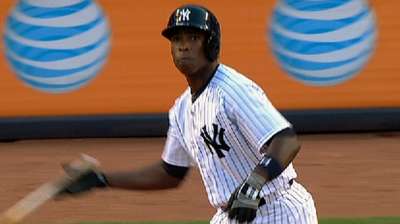 NEW YORK -- It should be a stretch to say that slipping the pinstripes back on is what energized this insane hot stretch for Alfonso Soriano. It would be, except that's exactly how the slugger is describing it.
The New York re-adjustment process is officially over for Soriano, who homered twice for the second straight night and drove in a career-high seven runs. He has 13 RBIs in the last two games and the Yankees won their fourth straight, trouncing the Angels, 11-3, on Wednesday night at Yankee Stadium.
"Here, it's like more motivation," explained Soriano, who returned to the Yankees in a July 26 trade with the Cubs. "All the players, they want to win. When you put the Yankees uniform on, you know what it's all about. It's all about wins. That's all I take to the game every night."
Soriano became just one of three players in Major League history to drive in at least six runs in consecutive games, according to the Elias Sports Bureau, joining the Rangers' Rusty Greer in 1997 and the Brewers' Geoff Jenkins in 2001.
"It's not bad," Soriano quipped. "You don't see those days. I have to take those days, because it's not easy sometimes getting one RBI in one game. And I got 13 in two games. So I'm very excited, very happy."
Facing Angels ace Jered Weaver, Soriano opened the night with his fifth career grand slam in the first inning, a blast into Monument Park. He ripped a two-run double in the second inning and then took Weaver deep again in the fifth, giving Soriano seven homers in his 17 games with the Yankees.
"We just were laughing," Robinson Cano said. "That's unbelievable. You see a guy that had six RBIs yesterday and seven tonight, that's an awesome game. That's every player's dream. Every time you have men on base, you want to be able to at least get a single, and he got a home run. That was really good."
Cano enjoyed a milestone night of his own with four hits, surpassing Hall of Famer Phil Rizzuto (1,588) for sole possession of 15th place on the all-time franchise hits list. He was more pleased to see the Yankees act like a powerhouse again.
"When you're not winning, you're just trying to figure out what's wrong, what you have to do to win," Cano said. "But when you're winning, you just have fun. You don't have to figure out anything."
It seems safe to dust the mothballs off the Bronx Bombers nickname; they've compiled 31 hits in their last two games, winning four straight for the first time since July 1-6.
The lineup savored Weaver's rare clunker, with the righty seeing his ERA swell from 2.87 to 3.49. New York's No. 3 through 6 batters combined to reach base in 13 of 18 plate appearances, going 10-for-15 with nine runs scored.
"You want to just continue with this momentum," Yankees manager Joe Girardi said. "We know we have our work cut out for us. We're playing a lot of the teams that are in front of us. We're in our division a lot going down the stretch here. You just try to ride this as long as you can."
Soriano became the first Yankees player to hit multiple home runs in back-to-back games since Jason Giambi, who hit four home runs over two games on Aug. 28 and 29, 2005, against the Mariners and Royals.
"He's hot, there's no doubt about it," Weaver said. "It's kind of crazy seeing it come full circle. I was able to see him when my brother [Jeff] was playing here and he was a young player. It looks like he's feeling comfortable and feeling at home and swinging the bat real well. He's obviously hurt us the last couple nights, and we have to do what we can to try to limit the damage with him coming to the plate."
Given an eight-run cushion through two innings, Yankees starter Ivan Nova was in no position to complain. After lacking run support behind some of his stronger efforts earlier this season, Nova was gleeful about Soriano's display.
"It's unbelievable," Nova said. "I've never seen that before. I feel good that he's doing that -- especially [because] this team really needed runs. Hopefully he continues to do that."
The crowd of 38,379 tried unsuccessfully to draw Soriano out for a curtain call after his second homer, but they lavished Nova with a standing ovation when he exited in the eighth.
Nova's effort wasn't his sharpest, scattering 10 hits and striking out six, but he held the Halos to three runs over 7 1/3 innings. Since returning from the disabled list on May 25, Nova has gone 5-3 with a 2.17 ERA in 11 games (eight starts).
"I haven't pitched with a lead like that in a long time," Nova said. "It feels really good. If the hitters start getting hot, it's a good sign for us."
Weaver was charged with nine runs and nine hits in five innings. Soriano was responsible most of the damage, but Cano and Curtis Granderson also delivered RBI singles in the second inning.
Chris Stewart added a two-run single in the seventh off Kevin Jepsen, driving home Granderson and Soriano, who hopes the hot stretch doesn't evaporate anytime soon.
"I hope it stays for a couple more weeks," Soriano said. "I know it's not going to happen often, those two days. So that's something I want to remember. I have to remember having games like that."
Bryan Hoch is a reporter for MLB.com. Follow him on Twitter @bryanhoch and read his MLBlog, Bombers Beat. This story was not subject to the approval of Major League Baseball or its clubs.