Halos' Romine meets up with brother in NY
Halos' Romine meets up with brother in NY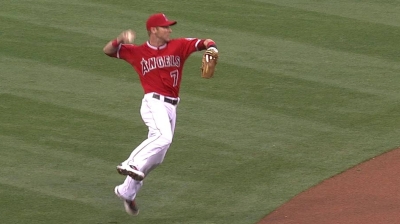 NEW YORK -- Andrew and Austin Romine haven't had much of an opportunity to share a baseball field together. When Andrew was a senior in high school, Austin was a freshman. And when both of them were in the Majors for a series at Angel Stadium in September 2011, Andrew didn't play.
Andrew was activated by the Angels on Wednesday, starting at shortstop and batting eighth while Erick Aybar recovers from cramping in his left calf. And though his brother, the 24-year-old Yankees backup catcher, didn't start behind the plate, Andrew's callup gave them a rare opportunity to actually see one another.
"I used to beat him at everything until he got bigger than me," said Andrew, two years and 11 months older than Austin. "We did everything together. We were close enough in age to where we just played baseball in the backyard, played baseball in the house, hung out on the weekends. We had the same friends and things like that."
Austin and Andrew are one of 11 brother combos to appear in at least one game in the Majors this season, according to STATS.
The only time Andrew and Austin actually got extended time against one another came in the Arizona Fall League in 2010. Besides that, they've taken two very different career routes.
Austin was drafted out of El Toro High School in Lake Forest, Calif., and spent most of the next six years in the Yankees' system before getting some extended playing time in 2013, appearing in 44 games while batting .206/.257/.304 entering play Wednesday.
Andrew went from Trabuco Hills High School in Mission Viejo, Calif., to Arizona State University before the Angels took him in the fifth round in 2007 -- three rounds after his brother was selected by New York -- and has compiled 44 games from 2010-13.
Growing up, Andrew didn't really pick on Austin too much. And that was probably a good idea.
"As far as I know, from what my family and friends told me, it was more psychological warfare -- because he started to get bigger than me pretty quick," said Andrew, who batted .287/.367/.391 in 89 games for Triple-A Salt Lake. "We weren't really like that. We didn't really fight or wrestle or anything like that. We just wanted to go out and play. Plus, he would've taken me down because he got bigger than me in high school."
Alden Gonzalez is a reporter for MLB.com. Read his blog, Gonzo and "The Show", and follow him on Twitter @Alden_Gonzalez. This story was not subject to the approval of Major League Baseball or its clubs.