Bonderman takes blame for extra-inning loss
Bonderman takes blame for extra-inning loss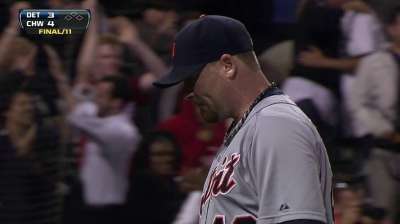 CHICAGO -- Reliever Jeremy Bonderman manned up on Tuesday night, taking responsibility for Detroit's 4-3 extra-inning loss to the White Sox.
"You can't afford to put guys on base and give them free passes. It's my fault," Bonderman said after walking two in the 11th inning.
It was an admirable thing, Tigers manager Jim Leyland said. But it wasn't necessary.
"I read his comment in the paper this morning. I didn't like them," Leyland said before Wednesday's game. "Because it wasn't his fault. He walked a guy and made a throw, that's nobody's fault. He doesn't have to feel bad about that."
Leyland is well known for standing up for his players. He said Bonderman's mistakes -- which included a high throw on a sacrifice bunt -- were the human part of the game.
He likened Bonderman's inability to get out of Tuesday's inning to a batter failing to get a hit with runners in scoring position -- and the Tigers have only two hits in their last 21 at-bats with men in scoring position in their two games against the White Sox.
In Wednesday's 6-4 win over Chicago, they were 2-for-8 with men in scoring position.
"You don't always get the hits. We've had a couple things happen lately that during our 12-game winning streak went exactly for us," Leyland said. "Ball hits off the pitcher's foot and went into the outfield for a hit.
"[Miguel Cabrera ] almost kills two pitchers last night, didn't get anything out of it. That's just part of it. When you're going good, that ball goes through. And when you don't win a game, or you struggle for a couple days, things like that happen. That's all part of the game."
Cash Kruth is a reporter for MLB.com. Follow him on Twitter at @cashkruth. This story was not subject to the approval of Major League Baseball or its clubs.