Gillaspie too focused to look toward next year
Gillaspie too focused to look toward next year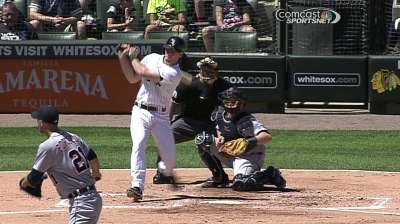 CHICAGO -- A mid-August glance at the hypothetical 2014 White Sox depth chart shows Conor Gillaspie as the team's starting third baseman.
But don't try to get the 26-year-old to admit such a fact as even a possibility.
During a recent interview with MLB.com, the well-spoken Gillaspie definitively stated that his rookie campaign had a much steeper learning curve than he could have imagined. Thoughts of a future starting job were met by a Gillaspie chuckle, but certainly not a dismissive one.
It was more an indication that he had too much to focus on presently to worry about next year.
"As hard as this game is, it wouldn't surprise me to not get a hit for two more weeks," Gillaspie said. "My role going into the year was to play when asked, and to do what was asked of me. I try to do that every day.
"If that means I'm a starter or I'm not a starter, I don't really care. I'm just hoping to do enough things well -- whether it's a sac fly or moving a runner over or making a play when you are not hitting good. Those are the types of things that buy you more time to show them you actually can play.
"I just have to keep battling, keep grinding, keep working, keep learning and just keep trying to do bits and pieces of this game right so somebody says, 'Hey, this guy might be able to help us in the future,'" Gillaspie said. "That's what it's all about. As a young guy, that's what you have to try to look forward to. Numbers-wise and what a lot of young guys, myself included, are used to doing, it's probably not going to happen that first year or two up here."
Gillaspie was a revelation earlier this year, hitting .311 in April, .263 in May and playing airtight defense. His glove work has stayed at a high level, but his average dipped to .177 in June and, entering entering Wednesday, was .167 in August, though he did hit an RBI single in his first at-bat.
He went 1-for-3 with two walks in Wednesday's 6-4 loss to the Tigers, but made his ninth and 10th errors of the season. The first, a throwing error in the sixth, allowed two runs to score.
Those offensive struggles have given Gillaspie a high level of respect for players who are consistently successful at the plate.
"You just don't realize how hard it is until you do it," said Gillaspie of hitting .300. "I've learned more here in one year than I have in my whole life. That's probably true for most people. It never ends.
"One day you think you've figured something out, and it's a rude awakening that day. I've had some success and a lot of failures, and basically as a younger guy, you try to play and do enough things right to where you get another chance the next year or the next month or whatever. That's kind of where I'm at."
"This game is constant frustration, constant grind, constant down on yourself. It never stops," Gillaspie said. "So, you appreciate the guys that can flat out do it every single year. People rag players for the amount of money they make. I'm going to tell you what: If you did it, you would never think twice about the money they give some of these guys, because they all deserve it."
Scott Merkin is a reporter for MLB.com. Read his blog, Merk's Works, and follow him on Twitter @scottmerkin. This story was not subject to the approval of Major League Baseball or its clubs.