White Sox can't get clutch hits to back Danks
White Sox can't get clutch hits to back Danks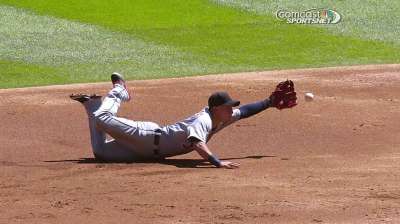 CHICAGO -- John Danks did not sound like a pitcher who threw well enough to win when talking to the media following Detroit's 6-4 victory over the White Sox on Wednesday afternoon at U.S. Cellular Field.
The loss prevented a three-game White Sox sweep of the American League Central-leading Tigers (70-49), but still left them with a 6-4 mark on a homestand that followed a 10-game losing streak. Danks didn't get much help from his offense, as it left 15 runners on base.
But Danks, who dropped to 2-10 on the season, didn't seem moved by this overall moral victory of sorts for his squad, which is now sitting at 46-73.
"There's nothing fun about losing. We hate losing," said Danks, who is 0-5 with an 8.74 ERA in his last six starts against the Tigers. "We show up to the ballpark expecting to win every game. That's all you can do. It was a good series. But I had a golden opportunity to get a sweep and lost it."
The southpaw remained winless since July 2, with a 0-5 record and 4.70 ERA in his last eight starts. Danks was staked to a 3-0 lead in the first but couldn't make that stand up, allowing six runs (four earned) on nine hits in 7 1/3 innings, striking out three and walking one.
Wednesday's outing marked the eighth time this season Danks has worked at least seven innings and the fifth time he's done it during his streak of eight winless starts. He has thrown 100 or more pitches in eight consecutive trips to the mound, reaching 107 on Wednesday, and while he didn't record a quality start, Danks remains tied with Chris Sale for the most by a White Sox hurler in this category since May 24 at 10.
All of these numbers are encouraging for a talented pitcher whose 2012 season ended with arthroscopic shoulder surgery last August. But he would like to turn that encouragement into victories in the very near future.
"I feel like I have plenty of stuff to go out there and compete," Danks said. "Location hasn't always been great. That will come. That's part of it. Certainly I feel like I'm making the right strides in the right direction."
Said White Sox manager Robin Ventura of Danks, "Command-wise, he was better today."
Ventura pointed out that Danks basically was victimized by one at-bat. That at-bat happens to feature Miguel Cabrera, who is currently the best hitter in the game and making a bid to be considered one of the best of all time. The interesting side note for Danks is that the pitch Cabrera connected on for a game-tying three-run homer in the third didn't miss his spot by much.
Cabrera's 38th home run, on a first-pitch, 92-mph fastball, followed singles from Bryan Holaday and Austin Jackson.
"Bad pitch to him," Danks said of Cabrera's connection. "I was trying to go a little further in the first pitch there, and he got to it. It wouldn't have been a called strike I don't think, but it doesn't have to be to be him."
"Some of those pitches are balls that Miggy's hitting out of the park," Tigers right fielder Torii Hunter said. "Pitchers are not trying to throw strikes down the middle. They're throwing balls and he's still hitting them. Tip your cap."
Detroit starter Rick Porcello (9-6) didn't look long for the game after a 37-pitch first inning. Avisail Garcia singled home a run, as did Conor Gillaspie, with Jeff Keppinger's sacrifice fly scoring the second run.
While the White Sox threatened against Porcello over the next five innings, they couldn't score. In fact, the White Sox had seven more hits against Porcello but never crossed the plate.
They finished with 14 hits (all singles) and five walks for the game, led by three from Gordon Beckham and two apiece from Alexei Ramirez, Adam Dunn, Garcia and Keppinger. The White Sox stranded 15, leaving two runners on base in the fourth, fifth, seventh, eighth and ninth innings.
Ramirez's eighth-inning single cut the Tigers' lead to two and brought closer Joaquin Benoit (who eventually earned his 15th save) into the game for a rare five-out appearance. He struck out Dunn and Garcia swinging to strand runners on first and second in the eighth, and despite yielding Keppinger's single and walking Gillaspie to open the ninth, Benoit finished off the win by striking out Jordan Danks and getting Alejandro De Aza to ground out.
Although they have been criticized in the past for being too reliant on the home run, the White Sox could have used some of instant offense on Wednesday.
"We had opportunities, we got on base," Beckham said. "That kind of baseball will win more games than hoping for more home runs, so I think we did good."
Omar Infante's single in the sixth gave the Tigers the lead, and Gillaspie's throwing error with the bases loaded scored two more with two outs. Gillaspie made a diving stop on Jackson's grounder down the third-base line, but he one-hopped the throw to first. Keppinger, who was playing first base on Wednesday, arrived late to the base, got his footwork tangled and couldn't make the scoop.
Gillaspie made two errors on the afternoon, which combined with Cabrera's homer and the lack of timely hitting, spelled out the White Sox 17th loss in their last 24 games. Winning their first homestand since May 20-27 is a step in the right direction, but it doesn't completely take away the sting of another loss.
"It's frustrating always to lose. It doesn't matter where or when or what time of the season, or who it is, you want to win," Beckham said. "We won a series. That's a positive thing and they're a real good team."
Scott Merkin is a reporter for MLB.com. Read his blog, Merk's Works, and follow him on Twitter @scottmerkin. This story was not subject to the approval of Major League Baseball or its clubs.