Cabrera's jack, Infante's knock help Tigers snap skid
Cabrera's jack, Infante's knock help Tigers snap skid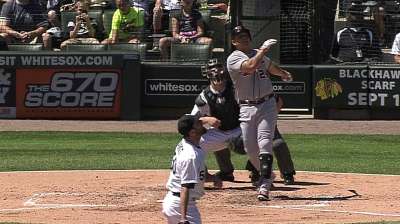 CHICAGO -- What a whirlwind road trip for the Tigers that turned out to be.
They flexed their muscles with a four-game sweep in Cleveland, made ninth-inning history against Mariano Rivera in New York -- yet still dropped two of three -- and in Wednesday's series finale against the last-place White Sox, needed a win to avoid being swept.
The Tigers did just that, getting the big hits they had been lacking from Miguel Cabrera and Omar Infante in a 6-4 victory at U.S. Cellular Field.
"It was definitely big for us to come out here and avoid getting swept," right-hander Rick Porcello said.
Detroit now readies itself for a prime opportunity to strengthen its hold on the American League Central against one of its biggest threats in a quest for a division three-peat. The third-place Royals -- 7 1/2 games back after their loss to the Marlins on Wednesday -- come to Comerica Park on Thursday for five games in four days, including Friday's doubleheader.
The Tigers nearly lost Wednesday, as well, with closer Joaquin Benoit providing some uneasiness after entering in the eighth and striking out Adam Dunn and Avisail Garcia to strand two.
In the ninth, Benoit allowed the first two batters to reach before recording his 15th save in as many opportunities.
Said Tigers manager Jim Leyland of working a closer more than one inning, "I don't like to do it, because I think you saw a little effect of that in the ninth inning. They lose their edge a little bit."
Leyland said Benoit's history against Dunn (0-for-8, six strikeouts) was why he went against his own beliefs. And it paid off.
"I thought he showed terrific pitch-ability today under tough circumstances," Leyland said.
Cabrera displayed his remarkable talents under his own tough circumstances. The Tigers third baseman is dealing with numerous injuries, but you wouldn't know it by watching him in the batter's box. Cabrera launched yet another home run -- his sixth in the last eight games -- this one a three-run shot off White Sox left-hander John Danks (2-10) that erased the White Sox three-run first inning.
"It depends on who you are throwing to. Bad pitch to him," Danks said when asked if it was a good pitch. "I was trying to go a little further in the first pitch there, and he got to it. It wouldn't have been a called strike I don't think, but it doesn't have to be to be hit."
Cabrera has been playing with an abdominal strain for about three weeks, and has a black-and-blue shin after fouling balls off his leg in New York. He slid on the shin on Tuesday while trying to beat out an infield hit, but Leyland said he wanted to play on Wednesday.
"As the manager, you almost feel bad, to be honest with you, playing him, because I can see that he's hurting," Leyland said. "But he wanted to play today, and I put him in there."
That doesn't go unnoticed by Cabrera's teammates, outfielder Torii Hunter said.
"He knows his presence is everything," Hunter said. "You put Miggy in the lineup ... he can't run, but the lineup still has an effect. And Miggy knows that."
Cabrera's blast nullified a rough first inning for Porcello. The Detroit right-hander allowed five of the first seven batters to reach -- and one of the outs was Jeff Keppinger's sacrifice fly -- and gave up three runs.
Most alarmingly, Porcello needed 37 pitches to record three outs. With the Tigers coming off Tuesday's 11-inning affair and the long weekend series looming, the bullpen appeared to be heading for a busy day it couldn't afford.
"I was panicking," Leyland said. "We really didn't have a long guy today, and when he got his pitch count that high that early, it was panicville for me. But fortunately he settled in."
Porcello (9-6) did, scattering seven more hits over the next five innings to earn a quality start and save the 'pen for the upcoming series against the Royals.
"It was a tough road trip, a battle," Hunter said. "We enjoy this day and we've got five with a team that's behind us chasing us."
Cash Kruth is a reporter for MLB.com. Follow him on Twitter at @cashkruth. This story was not subject to the approval of Major League Baseball or its clubs.