Ramos aggravates hamstring while running to first
Ramos aggravates hamstring while running to first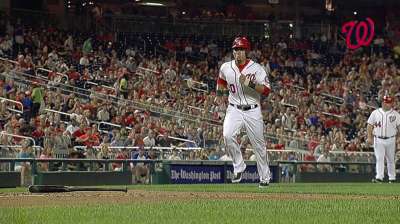 WASHINGTON -- Nationals catcher Wilson Ramos has served two stints on the disabled list this season with a left hamstring strain, and he aggravated the injury during Tuesday night's game against the Giants. Manager Davey Johnson said that Ramos was examined by trainer Lee Kuntz, and team doctor Wiemi Douoguih and that the injury is "not too bad."
"It's the same time on that same left hamstring," Johnson said after the Nationals' 4-2 win over the Giants. "Obviously, they think he might be day to day. But we'll have to see. I doubt if he's available tomorrow."
Johnson said that Ramos tweaked the hamstring while running to first base in the fourth inning. The 26-year-old hit a ground ball that ricocheted off pitcher Madison Bumgarner's mitt to third baseman Pablo Sandoval, and the catcher unsuccessfully tried to beat the throw to first base. Johnson removed Ramos from the game after the 77-minute rain delay in the fifth inning, and replaced him with Kurt Suzuki.
Ramos missed 15 games in April because of the hamstring strain, then played for two weeks before aggravating the injury and missing an additional 44 games. He said last month that he was still anxious about tweaking the muscle a third time, and was being extra cautious. He has also been sticking with a preventative treatment routine, including stretching and workouts in a pool.
"You have to be smart," Ramos said on July 24. "I know when I can run 100 percent, try to get a base hit, but it's not necessary with a routine ground ball to go 100 percent. For me right now, I'm trying to run hard, but if it's not necessary, then I won't do it, because I don't want to get hurt."
Tom Schad is an associate reporter for MLB.com. This story was not subject to the approval of Major League Baseball or its clubs.