Rain delay cuts MadBum's start as Giants fall in DC
Rain delay cuts MadBum's start as Giants fall in DC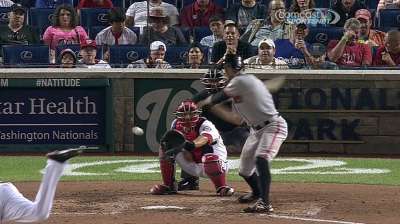 WASHINGTON -- Tuesday night's showers washed away the Giants' best chance at defeating the Nationals.
Neither team's starting pitcher returned after rain halted play for one hour and 17 minutes following the fourth inning. That should have been a break for the Giants, who no longer had to face Washington's formidable Gio Gonzalez. But the dropoff from Madison Bumgarner to Guillermo Moscoso proved more telling, as the latter yielded Adam LaRoche's two-run homer that broke a sixth-inning tie and helped the Nationals outlast the Giants, 4-2.
This could have been brushed off as just one more brick in the Giants' wailing wall. But it was surely a disappointment for Moscoso (1-1), who's auditioning for a role on San Francisco's 2014 staff.
After walking the first two batters he faced, Moscoso escaped the fifth inning by coaxing Ryan Zimmerman's double-play grounder and striking out Jayson Werth. Subduing two of the Nats' most formidable hitters should have emboldened Moscoso. But after Ian Desmond singled to lead off the sixth, LaRoche shattered a 1-1 deadlock by slamming a 1-0 fastball to the back of Washington's bullpen in right field for his 17th homer.
The Giants kept the score close. Joaquin Arias, a last-minute installment at second base when Marco Scutaro's sore back forced the Giants to scratch him, singled for his career-high fourth hit with one out in the seventh and scored on Hunter Pence's two-out single.
Arias received one more chance to excel in the eighth inning, when he batted with two outs, runners on second and third and the Giants trailing, 3-2. He swung at right-hander Tyler Clippard's first pitch and popped up.
Giants manager Bruce Bochy absolved Arias from blame.
"I had no complaints with his game," Bochy said. "He did all he could to help us win that ballgame."
Bochy was less impressed with the rest of San Francisco's offense. The Giants out-hit Washington, 10-9, but went 1-for-9 with runners in scoring position and marooned 12 baserunners.
This, of course, is nothing new. The Giants are averaging a Major League-low 2.58 runs per game since the All-Star break. They've scored three runs or more in six of 24 games in that span. And in their last 12 games, they're batting .176 (16-for-91) with runners in scoring position.
Last year, when the Giants' .296 batting average with runners in scoring position after the All-Star break led the Majors, is becoming more and more of a distant memory.
"Somebody's going to have to hit a gapper sometime, you'd think," Bochy said. "And we're missing it."
Werth's double christened Washington's eighth inning against Santiago Casilla, setting up Kurt Suzuki's sacrifice fly. Given the productivity of the Giants' offense, the two-run margin put the game out of reach.
The downpour aborted the anticipated pitching matchup between Gonzalez, who tops all National League left-handers with 28 victories since the start of the 2012 season, and Bumgarner, who has 27 wins in that span. Gonzalez blanked the Giants on four hits, while Bumgarner yielded one run and five hits to the Nats, who snapped a scoreless tie in the fourth.
Desmond's leadoff double and LaRoche's single put runners on the corners for the Nats. Wilson Ramos' comebacker caromed off Bumgarner's glove toward third baseman Pablo Sandoval, who threw to first for the out as Desmond scored.
Then came the rain. The longer it fell, the more Bochy's conviction grew that he wouldn't risk an injury to Bumgarner by re-starting the 24-year-old's arm after such a prolonged delay.
"We weren't even going to think of letting him go back out there," Bochy said. "He was throwing the ball well, too. [Gonzalez] was, too. They had to take him out, so we came out even on that."
That is, until Moscoso threw his fateful fastball to LaRoche. But Bumgarner accepted Bochy's logic.
"We talked about it the whole time," Bumgarner said. "Once [the delay] got over an hour -- I don't know if an hour is the cutoff, but he said it'd probably be better [not to return]. I never had to try to do that, so I don't know how it would have felt."
A two-out rally, abetted by Desmond's egregious fielding error, enabled the Giants to tie the score in the fifth inning off Nats reliever Tanner Roark. Singles by Arias and Brandon Belt prolonged the inning for Buster Posey, whose harmless roller to shortstop scooted under Desmond's glove and allowed Arias to race home.
Chris Haft is a reporter for MLB.com. This story was not subject to the approval of Major League Baseball or its clubs.