Bullpen holds out after Padres' fast start
Bullpen holds out after Padres' fast start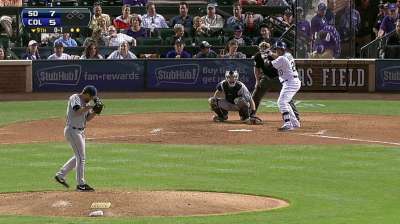 DENVER -- The obvious storyline for the Padres on Tuesday, especially for a team scuffling to score runs, was an offense that produced two home runs and had 12 hits, including three of the runners-in-scoring position variety, a glaring shortcoming in recent games.
Yet for all the offensive firepower the Padres showcased at Coors Field, it was really pitching -- the work of four relievers, specifically -- that essentially saved the day in a 7-5 victory over the Rockies in front of a crowd of 30,366.
"Fantastic," Padres pitching coach Darren Balsley said.
Balsley was referring to the 4 1/3 scoreless innings of one-hit relief turned in by Tim Stauffer (2-1), Nick Vincent, Luke Gregerson and Huston Street, who got the last four outs for his 23rd save of 2013 -- a win that maybe carried a little more meaning after Monday's 14-2 loss to the Rockies.
"I think everyone in here was embarrassed after that," said Padres second baseman Jedd Gyorko, who homered for the second time in as many days.
Before their bullpen quartet took over, the Padres (54-65) were in a bind early as the Rockies (56-65) got to starting pitcher Eric Stults for four runs in the first inning. On the heels of a blowout loss, this was not the start the Padres envisioned.
"That first inning kind of got away from me," Stults said afterward.
The rest of the game did not, though, as the Padres scored four times in the top of the second off Rockies pitcher Jeff Manship (0-2).
"It's good to fight back, especially after getting down early," Gyorko said.
Stults was one out shy of qualifying for the victory, but after watching the left-hander allowed 11 hits and three walks in 4 2/3 innings, manager Bud Black went to his bullpen.
Stauffer struck out two batters in his 1 1/3 innings. Vincent worked a scoreless inning before Gregerson got the first two outs in the eighth inning before allowing a broken-bat triple -- that's right -- to pinch-hitter Corey Dickerson.
"That's the darndest thing," Black said of the triple.
Street got former teammate Dexter Fowler to ground out to second base to end the inning, which was no small feat, considering Fowler is hitting .438 against the Padres this season.
Street then worked a 1-2-3 ninth inning, devoid of any Coors Field drama, for the save.
"This is a tough place to put up zeroes," said Street, who was the closer for the Rockies from 2009-11.
"We want to hold leads. That's what it's going to take for this team to win. We play a lot of close games. But credit our hitters tonight, too. [Scoring four runs] … That's the momentum swing."
The Padres, who entered Tuesday's game 3-for-55 with runners in scoring position over their previous six games, got a two-out RBI single in the first inning by Yonder Alonso followed by four runs in that pivotal second inning for a 5-4 lead.
In that second inning, Jaff Decker walked and scored when Nick Hundley hit a two-run home run to left field, his ninth of the season. Two batters later, Stults singled and then chugged home after Will Venable tripled into the right-field corner. Finally, Alexi Amarista following with an RBI single up the middle that nearly hit Manship.
"Plain and simple, I wasn't executing anything," Manship said.
The Padres added a run in the third inning when Gyorko hit his 12th home run of the season. Venable gave the Padres an insurance run in the sixth inning when his RBI single scored Ronny Cedeno.
Black was asked after the game about the resurgent offense, one currently without Carlos Quentin, who is on the disabled list with a strained right knee, as well as All-Star leadoff hitter Everth Cabrera, who last week was suspended for the rest of the regular season.
"They're two of our most productive offensive players," Black said. "But tonight, I really like the way the guys responded. It was a little rocky at the start."
But not at the finish, as Stauffer, Vincent, Gregerson and Street held the Rockies to one hit -- the triple by Dickerson -- over their final 14 at-bats of the game.
"Those guys were excellent," Balsley said. "Even the hit ... that was a good pitch. This is a tough place to pitch. But from Stauffer on down tonight, those guys were very good."
Corey Brock is a reporter for MLB.com. Keep track of @FollowThePadres on Twitter. This story was not subject to the approval of Major League Baseball or its clubs.