Rockies start fast but fade vs. Padres
Rockies start fast but fade vs. Padres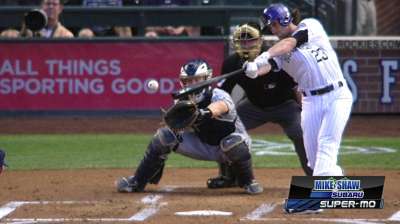 DENVER -- Nine Rockies batted in the first, and a Coors Field crowd of 30,366 that had seen its team awaken was ready to party once more. But by the next half-inning, they were booing.
Starting right-hander Jeff Manship brought the visceral reaction by giving up four runs in the top of the second, and he was booed again when he grounded into a double play to end the third. The Rockies never regained the lead, losing, 7-5, on Tuesday night to end their win streak at four games.
Manship (0-2) had an uplifting debut for the Rockies (56-65) on the road against the Mets last week (five innings, two runs) after being called up from Triple-A Colorado Springs. But Tuesday was a five-inning nightmare: eight hits and six runs, including home runs by Nick Hundley and Jedd Gyorko.
"Plain and simple, I wasn't executing anything," Manship said. "All I can take out of this outing that was positive was I was able to get to the fifth and save the bullpen."
The Padres (54-65) scored a run on two first-inning hits. But the Rockies scored four runs on five hits and a walk in the bottom of the first against Padres starter Eric Stults. Wilin Rosario had a two-run single, and Todd Helton and Charlie Culberson added run-scoring singles for a 4-1 lead.
"That first inning kind of got away from me," Stults said. "They tend to be more aggressive. But I just didn't execute pitches. They put some good swings on it, though."
The nine-batter first was a repeat of the Rockies' pattern in Monday night's 14-2 victory over the Padres, when they sent seven hitters to the plate three times and 10 batters in the eighth inning.
But Manship walked Padres second-inning leadoff man Jaff Decker and served up Hundley's ninth homer of the season, a no-doubter to left field. With one out, Stults singled, Will Venable followed with an RBI triple, and Alexi Amarista's single gave the Padres a 5-4 lead. Gyorko led off the third with the 12th homer of his rookie year.
"He got some balls up -- his front side was coming open a little bit, and his stuff flattened out on him," Rockies manager Walt Weiss said. "But he grinded through the fourth and fifth."
Manship, who made spot appearances with the Twins each of the last four seasons, said he knew exactly what he was doing wrong.
"I'm telling myself out there, 'You're flying open,' but I'm just not making the adjustment," Manship said. "That's probably the most frustrating thing about today."
Although the Rockies never regained the lead, Stults could not earn a win because he lasted 4 2/3 innings -- one out shy of the required length -- and gave up five runs on 11 hits. Still, he escaped at the right time.
In the third, Nolan Arenado's leadoff single extended his hit streak to 10 games, Helton walked and Culberson singled. But Charlie Blackmon popped to short center, and Manship grounded to shortstop Ronny Cedeno, who began a double play that raised the ire of the crowd.
Weiss said pulling Manship for a pinch-hitter at that moment was not a consideration because of the depleted condition of the Rockies' bench. Michael Cuddyer, who wound up grounding out later in the game filling that role, was back with the team after missing two games because of a severe flu-like illness. Also, Weiss could not use backup catcher Yorvit Torrealba because starter Rosario sustained cramping in his right hamstring during his first-inning single.
Rosario played the rest of the game in pain and was slowed to a jog offensively.
"I finished the game, so tomorrow, maybe rest and get ready in Baltimore," said Rosario, who would have two days to rest before the road series with the Orioles starts Friday night.
The only other Rockies run came on Culberson's fifth-inning sacrifice fly. Tim Stauffer (2-1) ended the fifth by forcing pinch-hitter Cuddyer into a grounder.
The Padres pitched scoreless relief. Onetime Rockies closer Huston Street replaced Luke Gregerson after Corey Dickerson's two-out triple in the eighth, forced Dexter Fowler's groundout, then pitched the ninth for his 23rd save.
"We got to Stults early, but their bullpen came in and kind of calmed the waters for them," Weiss said.
The Padres managed three sixth-inning hits, including Venable's RBI single, against Rockies reliever Adam Ottavino.
Thomas Harding is a reporter for MLB.com. Read his blog, Hardball in the Rockies, and follow him on Twitter @harding_at_mlb. This story was not subject to the approval of Major League Baseball or its clubs.