Orioles stung again by D-backs' late thump
Orioles stung again by D-backs' late thump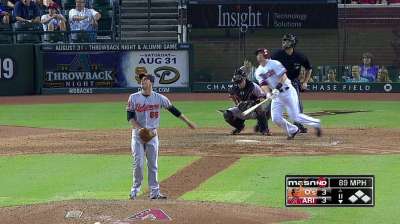 PHOENIX -- Deja vu struck the Orioles in two ways on Tuesday night, neither of which conjured moments the club would've liked to relive.
In each of Baltimore's first two games at Chase Field, the Orioles have taken a multi-run lead into the seventh inning. But both times they've faltered late, costing themselves a pair of games in an already tight race for the postseason. On Monday, it was Adam Eaton who snakebit the club. On Tuesday, it was Paul Goldschmidt, who did it twice in the same game, with the second resulting in the Orioles taking the all too familiar walk back to the dugout as the D-backs celebrated a dramatic victory at home plate.
After Jim Johnson blew his Major League-leading eighth save of the season in the ninth on a Goldschmidt long ball, T.J. McFarland left a fastball over the middle of the plate to Goldschmidt, who hit the first pitch of the bottom of the 11th inning over the right-field wall as the Orioles lost in walk-off fashion to the D-backs for the second straight night, 4-3, at Chase Field.
With the loss, the Orioles dropped to six games back of the Red Sox in the American League East and remained two back of the Rays, who have lost six straight, for the second Wild Card spot.
"We need every win and it's frustrating because I feel like I've let a lot go that we should've won," Johnson said. "It's hard to gain ground when you can't close the book on a couple games that you think you should win."
According to Orioles manager Buck Showalter, both Darren O'Day and Tommy Hunter were unavailable to pitch Tuesday because of their heavy workload recently. Without those two arms in the bullpen, McFarland was called on to pitch a second inning in the 11th after working a clean 10th minutes earlier. He ended up making the costly mistake to Goldschmidt, who leads the National League in home runs with 29.
"I threw a bad pitch, left it middle and he was able to get a lot of the barrel on it and hit it out," McFarland said. "He's a good hitter, first pitch swinging at the fastball he was able to put it out in right field."
Said Goldschmidt, "Looking for something in the middle of the plate that you can hit hard. I just tell myself, honestly, try to get on and let [Aaron Hill ] drive me in. Fortunately was able to hit a line drive."
The Orioles had a chance to close the game out two innings earlier, but armed with a one-run lead in the bottom of the ninth, Johnson made the same mistake McFarland did and served up a leadoff homer to Goldschmidt to even the score. Afterward, the 30-year-old closer was left searching for answers to explain his last two outings, both blown saves.
"If I had an answer, I'd tell you," said Johnson, who had converted 10 straight save chances from July 7 to Aug. 9. "I know what I put into it, so I know it's not an effort or preparation thing, maybe it's execution. I threw the pitch that I wanted to, but I probably could've located it better. You can always go back and find things, but I had confidence in every pitch I threw tonight."
Although veteran reliever Francisco Rodriguez has allowed just one hit over his last four outings after struggling in his first week with the club following a trade from Milwaukee, Showalter insisted that he would not make a change in the closer's role.
"No," he said. "We've got some good people there who will continue to pitch well for us. ... We've won a lot of one-run games too, do we throw those out? I don't live in that world. There's always something you can critique. You can constantly look half-empty or half-full, and with this group, I'll look half-full."
In a losing effort, Chris Davis hit his Major League-leading 44th home run, his second in as many days, while J.J. Hardy also homered with a group of 20 friends and family from his hometown of Tucson, Ariz., in attendance. That was all the Orioles got from their lineup though, as Arizona pitching held Baltimore to just one hit over the final six innings.
"We didn't do much offensively tonight," Showalter said. "We had a couple home runs but other than that, we didn't do a lot. They've been pitching us well."
Dominant through much of his outing, Orioles starter Miguel Gonzalez fell off a bit as the game wore on and remained winless since July 20 despite leaving with a lead. He surrendered two runs on five hits over seven strong innings.
"I thought Miguel pitched outstanding," Showalter said. "It's unfortunate because he pitched well enough to win. "
Up 3-0 for most of the night, the early cushion appeared as if it would be plenty for Gonzalez, who retired the first 11 batters he faced Tuesday and cruised through six shutout innings without a hiccup. But when the D-backs finally broke through in the seventh for two runs, Gonzalez's night came to an end, setting up Goldschmidt's two clutch homers and leaving the right-hander with a no-decision.
"I felt good out there but I left a couple balls up and that changes the game a little bit," Gonzalez said. "It's just a tough day, a tough one to swallow."
The Orioles will conclude their eight-game West Coast swing Wednesday afternoon, but after beginning the stretch 4-1, the club suddenly needs to avoid a sweep to return to Baltimore with a winning record on the trip. The team will have to do it against one of the best pitchers in the National League, with All-Star Patrick Corbin taking the mound for Arizona.
"We need to close it out tomorrow with a win," Davis said. "That's huge any time you're ending a road trip, you want to carry as much momentum as you can, especially this time of year."
Tyler Emerick is an associate reporter for MLB.com. This story was not subject to the approval of Major League Baseball or its clubs.