Hawkins plans to suit up for 20th season in '14
Hawkins plans to suit up for 20th season in '14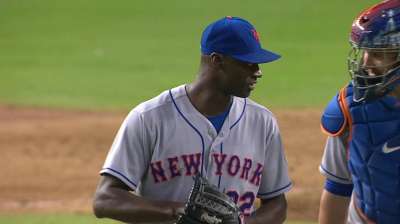 LOS ANGELES -- Two months ago, LaTroy Hawkins was convinced he was going to retire at season's end.
"I don't recover like I used to," he said at the time. "It's just one of those things that you know when it's time."
But Hawkins' recent rejuvenation has completely changed his mind. He entered Tuesday's play with a 0.75 ERA and zero walks since the All-Star break, recently recording three saves as injured closer Bobby Parnell's primary -- albeit reluctant -- ninth-inning substitute. No team has scored on Hawkins since July 26.
More important to the 40-year-old veteran of 19 big league seasons is the fact that his wife and 11-year-old daughter have warmed to the idea of extending his career. Much of the reason why Hawkins planned to retire in the first place was to spend more time with "the ladies in my life."
"Those girls, they tell me what to do," Hawkins said, laughing. "My daughter, she loves baseball. She told me the other day, 'Dad, you've got gas again.' She didn't like when I was throwing 88-91."
Hawkins' velocity has indeed crept up in recent weeks, the product of feeling fully healthy for the first time in years. Unlike last season, when a right pinkie fracture sidelined him more than a month -- or even earlier this season, when his right arm was not always 100 percent -- Hawkins feels strong again.
He may not have the velocity or stamina he did a decade ago, but Hawkins is a workout fanatic and careful eater, so he feels he can pitch for as long as his family wants him to.
"My whole career, I've done things that make me happy," Hawkins said. "You get to the point where it's time to make the two most important girls in my life happy. If that means not playing next year, so be it. But they've changed their stance, so it looks like we'll be playing again next year."
A pending free agent, Hawkins is not picky about where he pitches, having already appeared for 10 teams in the Majors. But he is curious to see how much longevity he can achieve. Recently appearing in his 900th career game, Hawkins ranks 21st on the all-time list. Another season would move him close to 1,000. Two more seasons could lift him into the top 10 in history.
"Nine hundred was huge for me," Hawkins said. "Now that I'm pitching good -- I'm not going to say 1,000, but ... if I move up, I move up. If I don't, I don't."
Anthony DiComo is a reporter for MLB.com. Follow him on Twitter @AnthonyDicomo This story was not subject to the approval of Major League Baseball or its clubs.