Erratic Deduno can't limit Indians damage in loss
Erratic Deduno can't limit Indians damage in loss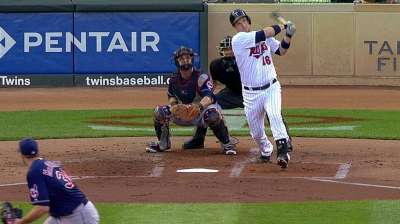 MINNEAPOLIS -- Samuel Deduno couldn't quite pinpoint it.
Sitting fully dressed in his Twins uniform in front his locker after Tuesday's game, Deduno looked exasperated after struggling for a second straight start and handing the Twins a 5-2 loss to the Indians at Target Field.
It marked the second straight outing in which Deduno allowed four earned runs, lifting his ERA from 3.17 to 3.54 in the process. This time, he lasted six innings, giving up five runs (four earned) on five hits and three walks with four strikeouts, and had troubling explaining the reasons for his recent struggles.
"I lost a little bit of control and they attacked pretty good, too," Deduno said. "I tried to make my pitches, but they kept going the wrong way."
He ran into trouble in the third inning, as he walked leadoff hitter Ryan Raburn before Joe Mauer made an error at first base on a hard-hit grounder from Lonnie Chisenhall. The error came back to hurt the Twins, as Raburn eventually scored on a Michael Bourn groundout for an unearned run.
The Indians scored again in the fourth on a Michael Brantley single to score Jason Kipnis, who singled and advanced into scoring position on a wild pitch.
Kipnis later provided an RBI groundout in the fifth to bring home Yan Gomes, who led off the inning with a double to right. And Raburn connected on a two-run homer in the sixth inning -- the final frame for Deduno, who hit Carlos Santana earlier in the inning.
"Sammy was kind of struggling through it there," Twins manager Ron Gardenhire said. "He gave up one run, one run, one run and then two with the big homer there. He hit the guy in the foot and the home run."
It was enough offense to back Indians right-hander Zach McAllister, who went six strong innings, surrendering two runs (one earned) on four hits and a walk against seven strikeouts.
"Offensively, we didn't do too awful much," Gardenhire said. "Their guy kept painting the corner outside against our righties, and had a nice little changeup and breaking ball. He basically stopped us, and the game didn't seem to go anywhere."
The Twins got on the board first with a homer from Josh Willingham to lead off the second inning. It was Willingham's 12th homer of the year and extended Minnesota's streak of 23 consecutive runs scored via a home run dating back to the first game of Friday's doubleheader against the White Sox.
The Twins finally scored without the help of a home run in the sixth, but this one came with help from Bourn. Mauer singled with one out, then scored from first on a single to center field from Justin Morneau that snuck under Bourn's glove and rolled to the center-field fence. But Morneau was stranded at third base, as McAllister struck out Willingham and Oswaldo Arcia to end the inning.
"Willingham, I was trying to get a strikeout or something soft, but I was able to get a strikeout on both of them," said McAllister, who improved to 5-7 with a 3.74 ERA.
The offensive output against McAllister wasn't enough for the Twins, who were shut down over the last three innings by Indians relievers Cody Allen, Joe Smith and Chris Perez.
The Twins went 0-for-6 with runners in scoring position, which is a continuation of their recent troubles in those spots. They're hitting just .061 (3-for-49) in those situations over their past six games, with all three of those hits homers.
"You can't rely on home runs all the time," Gardenhire said. "It's nice when we hit them, but we're going to have to be able to drive in these runs with a runner on third and less than two outs. Unfortunately for us, we didn't do it again tonight."
Rhett Bollinger is a reporter for MLB.com. Read his blog, Bollinger Beat, and follow him on Twitter @RhettBollinger. This story was not subject to the approval of Major League Baseball or its clubs.