Improving Norris eyes Thursday return to lineup
Improving Norris eyes Thursday return to lineup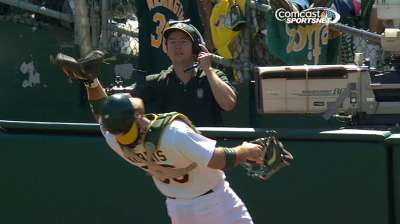 OAKLAND -- A's catcher Derek Norris said he feels "1,000 times better" and at "60 percent" healthy since back spasms made it difficult for him to walk two days ago in Toronto.
Norris is available to come off the bench if needed Tuesday and Wednesday and set Thursday as a target date to return to the starting lineup when the Astros send left-handed starter Erik Bedard to the mound.
Norris jogged for the first time since the injury on Tuesday and also hit off a tee, though he skipped batting practice so he could see how his body responded.
"I've never had anything like this. This is something fairly new," Norris. 24, said. "Here and there tweaks was about as far as I ever had. I couldn't even stand or walk. It got to the point where my muscles were so spasmed up that I really couldn't do a whole lot."
Norris said he used anti-inflammatory medication to help calm the spasms, which he compared to cramps one might feel in a hamstring, but because of the sensitive location of the injury, he's made sure not to do anything too strenuous.
Jeff Kirshman is an associate reporter for MLB.com. This story was not subject to the approval of Major League Baseball or its clubs.