Tribe takes advantage of erratic Deduno, defense
Tribe takes advantage of erratic Deduno, defense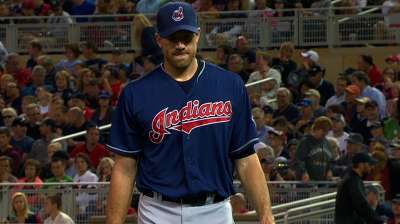 MINNEAPOLIS -- The Indians didn't have time to practice patience at the plate in the opener against Twins lefty Andrew Albers. It seemed Tribe hitters were down two strikes before they stepped into the batter's box.
On Tuesday at Target Field, it started with more of the same frustration against Minnesota starter Samuel Deduno, who picked up where Albers left off for the first two innings.
Then the third inning arrived, and the Indians witnessed two things that had yet to happen this series -- poor Twins defense and erratic pitching -- helping Cleveland pick up a 5-2 victory.
Ryan Raburn walked to lead off the third, then advanced to second when Lonnie Chisenhall reached on Joe Mauer's fielding error at first base. A Yan Gomes single loaded the bases with no outs before Michael Bourn picked up an RBI groundout to tie the game at 1.
The Indians took advantage again in the fourth, when Jason Kipnis led off with a single, moved into scoring position on Deduno's wild pitch and came around to score Cleveland's second run on Michael Brantley's single to center.
Leading, 3-1, in the sixth, Raburn delivered the Tribe's biggest blow when he followed a Carlos Santana hit-by-pitch with a homer to left for his 14th blast of the season, giving Cleveland a 5-1 advantage.
Indians starter Zach McAllister gave the team its best start in a week, tying a season-high seven strikeouts while allowing one earned run over six innings.
"He got to two strikes on, I think, 18 of the [23] hitters he faced," Indians manager Terry Francona said. "So he's pitching ahead in the count. As he got into the game, he started getting more comfortable with his offspeed. His cutter was a little bit bigger tonight. Not sure if that was by design, but it was a pretty effective pitch. He flipped enough breaking balls in there to make them respect that. He pitched really well."
"[McAllister] kept painting the corner outside against our righties and had a nice little changeup and breaking ball," Twins manager Ron Gardenhire said. "He basically stopped us, and the game didn't seem to go anywhere."
Aside from a leadoff homer to Josh Willingham in the second -- McAllister's first long ball surrendered in seven starts -- Cleveland's starter was largely in control.
McAllister, however, had to buckle down in the sixth, when Bourn allowed a Justin Morneau single to scoot under his glove and to the wall, sending Mauer home from first base for an unearned run. McAllister denied further damage by punching out Willingham and Oswaldo Arcia to end the frame.
"Willingham, I was trying to get a strikeout or something soft," McAllister said, "but I was able to get a strikeout on both of them."
"We're getting to a point [in the sixth inning] where we're thinking about maybe going to the bullpen," Francona said. "He's up around 100 [pitches], and guys have seen him a couple times. He executed really well."
McAllister (5-7), who picked up his first win since returning from the disabled list in late July, thought it was his best outing in his past five starts.
"I felt like maybe I was a little bit more relaxed," McAllister said. "But the big thing was command. I think, for me, it's being able to keep my front shoulder closed with all my pitches. Today, I was able to have a better mix rather than just going with my fastball."
Kerry Walls is a contributor to MLB.com. This story was not subject to the approval of Major League Baseball or its clubs.