Jaso meets with concussion specialist in Pittsburgh
Jaso meets with concussion specialist in Pittsburgh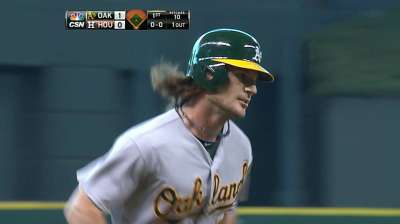 OAKLAND -- John Jaso continues to recover from a concussion that has kept him out of the lineup since July 24, the last time the A's faced the Astros.
Jaso flew to Pittsburgh on Monday to meet with Dr. Michael Collins, a leading authority on concussions, on Tuesday. Manager Bob Melvin said before Tuesday's game the team had yet to receive the results of the consultation and that he'll know more either after the game or on Wednesday.
Oakland's starting catcher has had success exercising on a stationary bike and running on a treadmill, but baseball activities continue to give Jaso trouble. He tried to play catch recently and still felt lingering side effects.
"That was probably the biggest reason why we sent him to Pittsburgh," Melvin said.
Melvin added that Derek Norris is likely to return as the A's No. 2 catcher instead of third baseman Josh Donaldson, who filled the role when Norris was unavailable due to back spasms.
Jeff Kirshman is an associate reporter for MLB.com. This story was not subject to the approval of Major League Baseball or its clubs.