Hardy happy for homecoming visit to Arizona
Hardy happy for homecoming visit to Arizona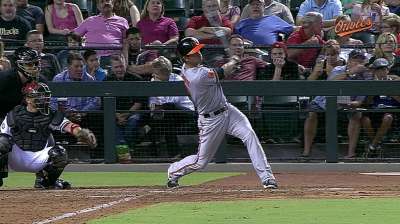 PHOENIX -- A native of Tucson, Ariz., J.J. Hardy is making a homecoming of sorts at Chase Field this week. With the southern Arizona city sitting about two hours from downtown Phoenix, many of Hardy's friends and family made the trip up to see the Orioles shortstop play in person.
So many in fact that Hardy joked he's "playing for free" this week because of the number of ticket requests he has received. With a group of 20 people in attendance for Tuesday's game, Hardy said he dropped close to $700 on seats.
"Yeah, I left a lot of tickets," he said, smiling. "It's worth it though."
Although it's a small sample size, playing in front of his loved ones appears to bring out the best in Hardy. In 12 career games at Chase Field entering Tuesday's game, the shortstop boasted a .420 average with 10 extra-base hits and eight RBIs.
Hardy, who spent the first five seasons of his career with the Brewers, said that while he loves playing for the Orioles, he misses Spring Training in the Cactus League, where he could live at his offseason home in Chandler, Ariz., for a longer time.
"It's two extra months at home, it does make a difference and I love Arizona" he said. "I like Sarasota, you're on the water and it's a nice place, so it's not too bad, but I do miss it."
Asked if he's at least happy to escape the blazing summer heat in the desert, Hardy insisted that his new city feels warmer.
"Baltimore, I think, is the hottest place on Earth," he said. "With the humidity, it feels way hotter than it does here. Guys were walking around outside here and were saying, 'Man, it's hot.' And I'm just like, 'It's actually not too bad.' I kind of like this 105 degrees. I guess growing up here, it's different."
Tyler Emerick is an associate reporter for MLB.com. This story was not subject to the approval of Major League Baseball or its clubs.