Miller marks homecoming with historic homers
Miller marks homecoming with historic homers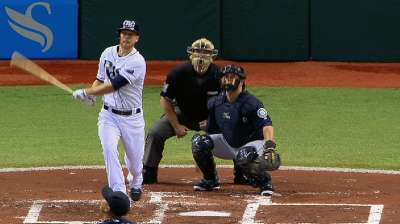 ST. PETERSBURG -- Brad Miller had the perfect homecoming Tuesday as the rookie shortstop hit two home runs in his first Major League game in his home state of Florida to help the Mariners top the Rays, 5-4.
Miller, who grew up about 75 minutes away in Orlando, had his own cheering section of about 50 fans at Tropicana Field to witness his breakout game.
"It was awesome," said the 23-year-old. "Before the game, I saw every coach I've ever had since I was like 5 and my best friends, my parents. Then to go out there and get things going and finish it off with a win. That was perfect. That was a lot of fun."
Some players feel pressured to perform in such situations, but Miller took it all in stride as he notched the second two-homer performance of his 39-game career.
"It's just so cool having my family and everybody there supporting me," he said. "I just wanted to go out there and have fun and keep playing like they've always seen me play. I don't really think about pressure. I was just happy they were there."
Ben Zobrist matched Miller with a pair of homers for the Rays, as the two infielders provided the offensive punch from the get-go, each hitting leadoff home runs in the first inning and then adding second shots in the fifth.
It was just the second time in MLB history that leadoff hitters for both clubs homered in their first at-bat and then hit another later in the game, with Chuck Knoblauch of the Twins and Tony Phillips of the Tigers doing the double deed on June 5, 1994.
"I actually was here in high school when Zobrist hit his very first home run," Miller said. "I remember he came up as a left-handed hitting shortstop and I said, 'Hey, I'm going to remember that guy.' He hit some balls well tonight. I'm just glad he didn't do it in the last inning, and we were able to close it out."
Miller's two solo shots helped right-hander Erasmo Ramirez win his fourth straight decision as Seattle opened a three-city, nine-game road trip on a positive note, improving to 55-63 on the year. The Rays lost their sixth straight, falling to 66-51.
Miller ended with a 2-for-5 night. Since being called up on June 28, the former Clemson standout has hit .261 with four home runs and 20 RBIs to give the Mariners' offense a shot in the arm.
First baseman Justin Smoak has been an even bigger boost with his recent production, and he continued that with a 2-for-4 night that included a two-run single in the fourth.
Smoak has hits in 11 of his last 12 games while batting .364 (16-for-44) with four home runs and 10 RBIs during that stretch. Since July 1, Smoak has hit .317 (39-for-123) to raise his season average to .273.
Ramirez missed the season's first three months with an elbow issue, but the 23-year-old is 4-0 in his first six games back, despite a 7.06 ERA. Ramirez gave up four runs on seven hits with one walk and seven strikeouts in 5 1/3 innings before giving way to Oliver Perez after throwing 86 pitches.
Perez and Yoervis Medina shut out the Rays for 2 2/3 innings before right-hander Danny Farquhar came in to record his fifth straight save since taking over as closer on Aug. 3, striking out Zobrist and Matt Joyce and then getting Evan Longoria on a game-ending flyout to center.
Acting manager Robby Thompson said Farquhar has earned the closer's job with his strong effort since stepping in for Tom Wilhelmsen, as he's allowed just two hits with no walks and eight strikeouts in 5 1/3 innings in that role.
"He has been huge for us, obviously," Thompson said. "With Tommy down getting some work, we went to him with the hot arm and he's continued to do so. We will continue to go to him in that inning right now. He has proven he's the guy right now, and we will stick with him."
Farquhar, acquired from the Yankees in the Ichiro Suzuki trade last season, relished his new role once again in slamming the door on the Rays.
"It's a fun point in the game," Farquhar said. "Same thing as usual. The crowd gets loud, the game gets intense, it's a one-run game in the ninth against the top of the order. It was fun."
The Mariners got five runs off Rays rookie right-hander Chris Archer, who came in with a 5-1 record and 1.91 ERA over his previous nine starts. Smoak ended Archer's night with a leadoff single in the sixth, with Dustin Ackley greeting reliever Wesley Wright with an RBI triple to give Seattle a 5-4 lead.
Ackley was 3-for-4 on the night, continuing his own recent uptick. He's hit .304 (21-for-69) since July 12 to hike his average to .233. Ackley even scorched the ball in his lone out on Tuesday, lacing it down the first-base line. Rays first baseman James Loney snagged it to start a double play, ending the Mariners' second.
"The first at-bat, hitting into the double play, that wasn't ideal," Ackley said. "But I felt great with the swing and all that. I was able to string something together, and fortunately, we got the big one with the triple, and Smoak was able to score, so that was a big turning point."
The Mariners have hit a Major League-leading eight leadoff home runs this season, shattering their previous season record of five. Four different players have contributed to that effort, with Franklin Gutierrez hitting three, Michael Saunders and Jason Bay with two each and now Miller joining the fun.
Seattle is the first team since the D-backs in 2009 with four different players hitting leadoff homers, and their 24 first-inning home runs is tops in the Majors this year.
Greg Johns is a reporter for MLB.com. Follow him on Twitter @GregJohnsMLB as well as his Mariners Musings blog. This story was not subject to the approval of Major League Baseball or its clubs.