Harvey gets outshined by Ryu in Los Angeles
Harvey gets outshined by Ryu in Los Angeles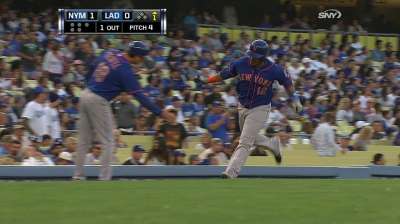 LOS ANGELES -- The recent obsession with Matt Harvey's workload stems from the fact that, with few exceptions, Harvey's innings this year have been of superior quality. What Mets fan wouldn't want him pitching as many of them as possible?
But as Harvey continued steamrolling Tuesday night toward a limit he will most likely reach in mid-September, the quality of his work took a modest hit. Harvey gave up four runs in six innings at Chavez Ravine, striking out a season-low three in a 4-2 loss to Hyun-Jin Ryu and the streaking Dodgers.
"I just couldn't locate anything," Harvey said. "I'm obviously not happy about it."
Perhaps the oddest aspect of Harvey's performance was that he appeared on point at the start, whiffing consecutive Dodgers to open the game while touching 98 mph with his fastball. Though Harvey turned mortal from there, giving up stray hits in the second, third and fourth innings, he induced a double play in all three instances to extend his scoreless-innings streak to 13.
That changed in the fifth, when Harvey walked A.J. Ellis, allowed a one-out single to Juan Uribe, then served up a two-run double to Nick Punto. An inning later, Ellis singled home two more runs to seal Harvey's final line: six innings, four runs, three whiffs and two walks.
"I didn't make my pitches," Harvey said. "If I made my pitches, it would have been a different story. I couldn't locate anything. I couldn't throw my slider for a strike and my curveball was loopy. It was just a rough outing."
It may not have been vintage Harvey, but it was still good enough to keep the Mets in the game -- or it would have been had Ryu not been utterly brilliant, allowing only five hits in seven innings of one-run ball. The Mets plated their only run against Ryu on Juan Lagares' homer in the first.
"He had good stuff tonight, so I just tried to go out there and look for something I could make a good swing on," Lagares said.
It was a small boon for the Mets, but not nearly enough to overcome whatever magic the Dodgers have bottled and patented over the past two months. In winning Tuesday, Los Angeles improved to 39-8 since June 22, establishing the franchise's best 47-game run of the modern era and the best mark of any Major League team in 62 years. Not only that, the Dodgers seem to be growing stronger on a daily basis, winning 22 of their 25 games since the All-Star break.
"They're playing great defense, they're pitching like crazy and they're coming up with big hits," Mets manager Terry Collins said. "Certainly, you've got to play a perfect game to beat them right now, and we're not doing that."
The Mets needed Harvey in particular to be perfect, and he was not. From the moment he began throwing his pregame bullpen session, Harvey suspected something was not right. Even in striking out two batters in his flawless first inning, he felt a bit off-center.
Punto called the Dodgers "lucky and fortunate that Ryu had an even better game than Matt did," considering that Harvey "is as tough as you're going to get."
Considering their young ace's track record, the Mets would tend to agree. And that track record is now growing rather lengthy. With six more innings tacked onto his ledger Tuesday, the young ace reached 165 2/3 for the season -- four fewer than he pitched between the big leagues and Minors all of last year. His goal is to reach 200 innings, and the Mets plan to shut him down shortly after; a team official said Tuesday that he will likely be allowed to reach 210 innings, but little more than that.
The idea is to prevent Harvey from exceeding last year's total by too great of a margin, which the Mets believe would put his health at risk. Next year, Harvey should have no such shackles as he enters his second full big league season.
Even so, Harvey still has at least a month's worth of starts to go this year, giving him plenty of opportunity to add to his resume. They know what he can accomplish in that amount of time.
And they certainly know what he can accomplish in seasons to come.
"They understand what they're facing," Collins said of Harvey and teammate Zack Wheeler, who is looking at similar restrictions. "We understand what they're facing, and we have the big picture as the most important thing in mind."
Anthony DiComo is a reporter for MLB.com. Follow him on Twitter @AnthonyDicomo This story was not subject to the approval of Major League Baseball or its clubs.