Ryu bests Harvey as LA wins seventh straight
Ryu bests Harvey as LA wins seventh straight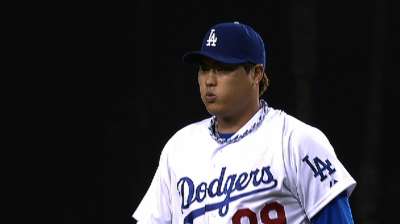 LOS ANGELES -- For all the talk about Mets ace Matt Harvey, Dodgers rookie left-hander Hyun-Jin Ryu offered a reminder on Tuesday night that he's pretty good, too.
Ryu fired seven innings of one-run ball, Nick Punto and A.J. Ellis each had two RBIs, and the Dodgers beat Harvey and the Mets, 4-2, at Dodger Stadium to win their seventh game in a row.
"That guys is as tough as you're going to get," Dodgers outfielder Skip Schumaker said, "so we're very lucky and fortunate that Ryu had an even better game than Matt did."
The Dodgers improved to 22-3 in the second half and moved a season-high 19 games over .500. Los Angeles leads the National League West by 7 1/2 games.
The Dodgers are 39-8 over their past 47 games, the franchise's best 47-game run since 1900, and the best mark for a Major League club since the New York Giants had the same record in a period of 47 games in 1951.
"The run is special, absolutely," Punto said. "But when you're in it, you don't think about that. We're coming here to win ballgames and trying to win this division. That's in the front of our minds."
Ryu rose to the occasion, as he has all season in big games.
The South Korean allowed a solo home run to Juan Lagares, the second batter he faced, but settled in and silenced the Mets for the rest of his outing. Ryu struck out three, walked one and held the Mets to four singles after Lagares took him deep to left.
"Hyun-Jin was obviously up to the challenge," said Dodgers manger Don Mattingly. "I was looking forward to how he was going to respond to this little matchup, because he's kind of came up big every time we've had a big game. I was kind of expecting this tonight. He knows that Harvey get a lot of attention about being one of the best pitchers in the game. I think he was definitely motivated by that."
Punto slapped a double to left in the fifth inning off Harvey, who started the All-Star Game for the National League but winless in two starts against the Dodgers. Ellis drove in two more in the sixth with a two-out single off Harvey. The catcher is second on the Dodgers with 42 RBIs this season, and has driven in 10 runs in 10 games this month.
"When our pitchers are keeping us in games like this, it just takes a timely hit," said Punto, hitting .429 with six RBIs over his past four games filling in for Hanley Ramirez at shortstop.
Harvey didn't come back out for the seventh. In two starts against the Dodgers this season, he's allowed seven earned runs on 12 hits over 12 innings.
"I just couldn't locate anything," Harvey said. "When I tried to go in, I was over the middle. When I tried to go away, I was yanking it quite a bit. Against a good team like that, when you're not hitting your spots, they're going to put the ball in play and tonight they found holes."
Ryu also allowed one run over seven innings against the Mets on April 25 in New York, but settled for a no-decision. This time, he earned his 12th win.
With proven starters like Clayton Kershaw and Zack Greinke leading the Dodgers' rotation, Ryu is sometimes an afterthought. But Ryu is unbeaten in his last eight starts overall, and is 6-1 with a 1.78 ERA in 11 starts at Dodger Stadium. He's given the Dodgers 17 quality starts in 23 outings.
"I'm not sure he's getting enough credit around here," Schumaker said. "But we have some pretty good pitchers on our team, so I get it. He's been just so good and so consistent every single start. It's just a lot of fun to play behind because he throws so many strikes."
Yasiel Puig, Mark Ellis and Juan Uribe each had two hits for the Dodgers.
Ronald Belisario tossed a scoreless eighth, and Kenley Jansen nailed down his 19th save. Jansen has converted 12 consecutive save chances, though he allowed a run for the first time since July 23.
The Dodgers will go for a sweep of the three-game series on Wednesday behind left-hander Chris Capuano, and expect to have Ramirez back in the lineup for the first time since he injured his right shoulder Aug. 4 in Chicago. Los Angeles is 12-0-4 over its past 16 series, and has not lost a series since dropping two of three in Pittsburgh June 14-16.
"It's safe to say we have a special group of guys here," Punto said. "Hopefully everything aligns right and we keep playing solid baseball."
Austin Laymance is an associate reporter for MLB.com. This story was not subject to the approval of Major League Baseball or its clubs.