Timing improved, Dozier takes off in second half
Timing improved, Dozier takes off in second half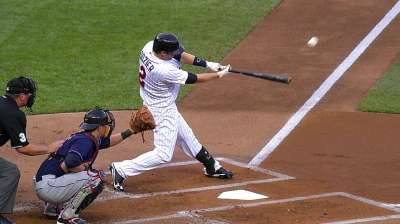 MINNEAPOLIS -- After a slow start to the season, Brian Dozier has been heating up in the second half and now ranks near the top among second baseman in extra-base hits this season.
With a leadoff homer against the Indians on Monday, Dozier has 41 extra-base hits entering Tuesday, which ranks fourth among Major League second baseman. Only the Cardinals' Matt Carpenter (50), the Indians' Jason Kipnis (45) and the Yankees' Robinson Cano (44) have more.
Dozier, who is hitting .275/.330/.560 in 21 games since the All-Star break, ranks second on the team in homers with 12, while leading the team with four triples and ranking third with 25 doubles.
"I got in a big funk early in the year so I'm not really worried about numbers or where they're at or anything," said Dozier, who hit .235 in the first half of the season. "But I don't want to lose the fact of extra-base hits and home runs and stuff and not be just a singles hitter and leadoff hitter."
Dozier is on pace for 57 extra-base hits, which would rank as the second most among second basemen in Twins history behind only Chuck Knoblauch's total of 62 in 1996. He also has a chance to pass Tim Teufel's team record of 14 homers as a second baseman set in '84.
Dozier said his turnaround started in late May, when he worked with hitting coach Tom Brunansky to fix his timing.
"I was missing a lot of fastballs and getting under balls because I wasn't getting anything started," Dozier explained. "I was getting started late and it caused the barrel to drag. You lose power and everything when you do that. So if you correct one thing, everything kind of aligns itself. So for me, it was just getting my foot down and seeing the ball better. It allowed me draw more walks and hit for more power."
Rhett Bollinger is a reporter for MLB.com. Read his blog, Bollinger Beat, and follow him on Twitter @RhettBollinger. This story was not subject to the approval of Major League Baseball or its clubs.