Cobb eager to take the hill for Thursday start
Cobb eager to take the hill for Thursday start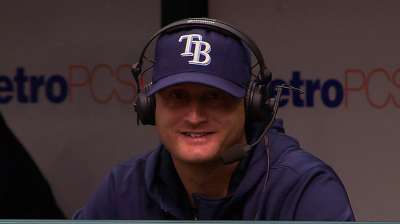 ST. PETERSBURG -- Rays starter Alex Cobb will start Thursday's game against the Mariners. The start will be Cobb's first since June 15 when he was struck in the head with a line drive off the bat of Kansas City's Eric Hosmer in the fifth inning.
"I'll probably get those first-time-out jitters and the adrenaline going," Cobb said. "I'm really looking forward to getting out there again."
Manager Joe Maddon will limit Cobb to "around 90 pitches."
After a long layoff, three rehab starts and a bout with a blister on his right index finger, Cobb said he expects Thursday to feel like his first start of the season.
He added that he's excited to start at home in front of the same fans who saw him get injured.
"The fans have been so supportive through all this, whether they're sending in letters or tweeting me," Cobb said. "It's going to be nice to make my return in front of them."
Cobb was arguably the team's most effective starter before the injury with a 6-2 record and a 3.01 ERA. He saw the boost his teammates received when David Price returned from the disabled list in July in impressive fashion and will look to provide a similar effect.
"My mindset will be the same as it was when I was pitching before," Cobb said. "Hopefully the competitive side of me will take over, and I'll be able to keep this team in the ball game."
Sam Strong is an associate reporter for MLB.com. This story was not subject to the approval of Major League Baseball or its clubs.