Choo comes through with clutch extra-inning single
Choo comes through with clutch extra-inning single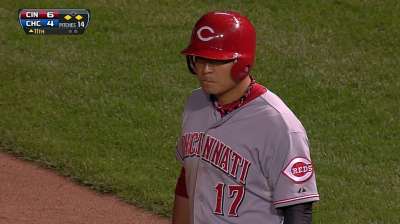 CHICAGO -- Losing both eighth-inning setup men earlier in the season could have been a crushing blow to the Reds. J.J. Hoover is just one of the reasons it wasn't.
Hoover, along with Sam LeCure and Manny Parra, locked up the Cubs in the late innings until something good could happen on the offensive side. That came in the top of the 11th inning, when Shin-Soo Choo's tiebreaking two-run single gave the Reds a 6-4 victory on Tuesday.
"No one wants to go out there and fail. This group of guys feed off of each other's success," said Hoover, who pitched a career-high 2 1/3 innings for the victory on his 26th birthday.
Hoover (3-5) has provided 24 1/3 straight scoreless innings, the longest active streak in the Majors, over his last 21 appearances. As the pitching staff soldiered on without Jonathan Broxton and Sean Marshall, Hoover's turnaround has been impressive.
Through June 9, Hoover was 0-5 with a 5.40 ERA in 28 games. His ERA is now 2.81. Broxton returned from the disabled list last week, but Hoover still appears in late-inning pressure situations.
"Confidence breeds success," Reds manager Dusty Baker said. "The more confident you are, the more times you go out and do the job. It builds on itself. That was big. The last few games, he's been doing what we hoped he would do earlier in the year when he was struggling some."
Pitching three days in a row for the first time since April 14-16, Aroldis Chapman worked the bottom of the 11th for his 29th save.
It wasn't a good night for Reds starter Homer Bailey, who tied a career high with three home runs allowed and surrendered the lead twice. Bailey hadn't given up more than one homer in a game since he last gave up three on April 10 vs. the Cardinals.
"Our command was just terrible tonight," said Bailey, who gave up four runs, six hits and three walks with five strikeouts in 6 1/3 innings. "It's one of them nights I didn't have good stuff at all. I never really felt like I was in a groove."
It was a 2-0 Reds lead when Chicago evened the game in the second inning. Nate Schierholtz smoked a 1-1 pitch for a two-run homer to right field. The Reds scored two more in the third inning, but Dioner Navarro led off the bottom of the fourth by hitting a full-count pitch for a homer inside the right-field foul pole.
Cubs homer No. 3 came in the seventh, when Donnie Murphy drove a 0-1 fastball the opposite way into the right-field bleachers to make it a 4-4 game.
"We had to scrape for every [hit] we got," Baker said. "All their runs came off home runs. Usually Homer doesn't give up home runs like that."
Bailey was finished after walking David DeJesus with one out. LeCure faced one batter, striking out Junior Lake with a 74-mph offspeed pitch. Parra took over and struck out Anthony Rizzo with an 83-mph slider and retired his first two batters in the eighth.
"That's their job. It doesn't always work out but it was the right matchup," Baker said.
Then it was Hoover's turn. He struck out Starlin Castro to end the eighth and retired the side in order in the ninth. In the 10th, DeJesus hit a leadoff single to center field but couldn't move up a base as Lake botched a sacrifice attempt with a popup to the mound. Rizzo grounded into an inning-ending double play.
"I just wanted to give the offense a chance to score a run," Hoover said. "That last inning, I didn't want to start it off with DeJesus on there, I knew that. I just wanted to keep Rizzo on the ground and get the double play."
In the 11th against Eduardo Sanchez, the Reds loaded the bases with no outs, despite not getting a hit. Sanchez began by walking leadoff pinch-hitter Ryan Ludwick on four pitches, throwing a wild pitch to Devin Mesoraco to allow Ludwick to reach second, then walking Mesoraco. Cesar Izturis dropped a sacrifice bunt toward third base, but Murphy couldn't pick it up for an error that filled the bases for Choo.
"I honestly couldn't tell you what happened on that play. I just missed it, and it killed us," Murphy said.
Mired in a 1-for-23 funk, Choo just missed hitting a homer when the wind held up a drive to center field in the second inning. In the ninth, he was called out on strikes in three pitches. On a first pitch from Sanchez in the 11th, Choo came up big by lining his two-run single into right-center field.
"I told myself to be more aggressive my last at-bat, and just swung on the first pitch." Choo said. "Yeah, it's a good outcome."
Cincinnati won its third straight game and sixth of its last seven. This was its National League-leading 17th extra-inning game of the season.
Since the Cardinals defeated the division-leading Pirates, also in extra innings, the Reds sit just 3 1/2 games back in the NL Central and 1 1/2 games behind St. Louis for the top NL Wild Card spot.
"I'm just glad we won," Baker said. "The bullpen did a great job again. Hoover did an outstanding job."
Mark Sheldon is a reporter for MLB.com. Read his blog, Mark My Word, and follow him on Twitter @m_sheldon. This story was not subject to the approval of Major League Baseball or its clubs.