Cubs put on home run display, fall in extra innings
Cubs put on home run display, fall in extra innings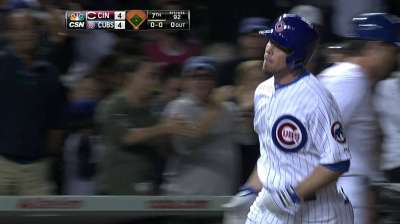 CHICAGO -- Donnie Murphy was playing his third game at Wrigley Field on Tuesday, so he's still learning about some of its quirks.
The Reds took advantage of an error by Murphy to load the bases, and Shin-Soo Choo followed with a two-run single in the 11th to lift Cincinnati to a 6-4 victory over the Cubs for its 12th win in 15 games against Chicago this season.
With the game tied at 4 against Eduardo Sanchez, pinch-hitter Ryan Ludwick walked and advanced on a wild pitch, and Devin Mesoraco walked. Cubs manager Dale Sveum met with the infielders and Sanchez to go over their defense on a bunt play, and originally called for a "wheel" play. But the Reds were able to load the bases when Cesar Izturis' bunt bounced through Murphy's legs. Choo then singled to right-center to drive in two.
What happened?
"I honestly can't tell you what that ball did," Murphy said. "It bounced, and I don't even know what the spin did -- it went towards me. I don't think I even touched the ball.
"Even from taking ground balls here in [batting practice], it does some funky stuff out there, and that's not what I was expecting at all with that ball. I think what threw us off, the [wheel] play we were going to run, [Izturis] slashed on it the pitch before that, and we had to hold our ground a little more instead of just crashing. I honestly couldn't tell you what happened on that play. I just missed it, and it killed us."
Murphy said the infielders were more flat-footed rather than being on their toes and ready to charge, which would've been the case on a wheel play.
It was just one more mistake in a game that seemed littered with mistakes.
"A couple miscues again when [Jeff Samardzija] was out on the mound led to a lot of runs," Sveum said. "He could've had a goose egg up there and gone even another inning or so. Obviously, we didn't play really good baseball tonight."
Sveum checked the flags prior to the game, looking for any advantage. The Cubs lead the National League in homers but have scuffled at Wrigley Field. Maybe they could end their scoring drought?
"I would've rather seen the wind blowing out," Sveum said.
It was blowing in, but that didn't matter to Nate Schierholtz, Dioner Navarro and Murphy, who each homered.
"We had to scrape for every [hit] we got," Reds manager Dusty Baker said. "All their runs came off home runs. Usually Homer [Bailey] doesn't give up home runs like that."
The Reds struck first when Samardzija walked Choo on five pitches to start the game, and one out later, Joey Votto doubled. Brandon Phillips followed with an RBI single just past the outstretched glove of shortstop Starlin Castro. Votto tallied on Jay Bruce's groundout.
The Cubs had been scoreless at Wrigley Field in 33 innings before Schierholtz hit a two-run homer in the second, driving in Navarro, who had singled, to tie the game at 2. The 33-inning stretch was a franchise record, topping 31 innings done at Wrigley in both 1917 and '51.
"We have the fourth best road record in the National League, but we have one of the worst home records in a place where we should take advantage of it," Sveum said. "It hasn't worked out too well."
The Reds, now 8-1 at Wrigley this season, seem much more at home. Cincinnati had runners at second and third after Votto walked, Phillips singled, and both advanced on a double steal in the third. Samardzija walked Bruce, and Votto scored as ball four skipped in the dirt for a wild pitch. Xavier Paul's run-scoring fielder's choice made it 4-2.
Navarro belted his career-high 10th homer leading off the fourth. His previous best was nine, set in 2007 with Tampa Bay. Murphy then tied the game with an opposite-field shot leading off the seventh against Bailey.
"I felt like after my first at-bat, I was seeing Bailey pretty good," Murphy said. "He was painting a couple good pitches on the outside corner early in my at-bats. He left that one over the plate a little more and I put a good swing on it and tied the game."
Samardzija, lifted after six innings, fell behind hitters early. He talked to pitching coach Chris Bosio between the second and third innings and made a minor mechanical adjustment.
"We got back in the zone and had a couple clean innings, which kept us in the game," Samardzija said. "Obviously, you'd like to avoid the first few runs, but otherwise, I felt good."
Now 1-4 in his last nine starts, Samardzija's agent and the Cubs have discussed a new contract, but Theo Epstein, president of baseball operations, said right now, he's more interested in watching the right-hander's "evolution" as a starter. Samardzija has two more years in which he's arbitration eligible.
"I want him to continue to grow as a pitcher and continue to develop the consistency, which I think is the last remaining hurdle for him," Epstein said. "He's got tremendous stuff, he's got tremendous makeup. The only thing separating him from being the pitcher he can be is that context."
How does he become more consistent?
"It goes back to walks," Samardzija said. "Consistency is hand in hand with pitch efficiency. When you're putting 10 guys on in the game when you mix in five, six hits and a few walks, you're putting yourself in a situation where you have to battle and throw extra pitches and big pitches. With two outs and a guy's on first, those pitches aren't the same as one out and [runners on] second and third.
"It's something we've addressed, and we'll put an asterisk next to it for importance and go from there. We're striding in the right direction for sure."
Carrie Muskat is a reporter for MLB.com. She writes a blog, Muskat Ramblings, and you can follow her on Twitter @CarrieMuskat. This story was not subject to the approval of Major League Baseball or its clubs.