Bullpen springs leak as Blue Jays fall in 11 innings
Bullpen springs leak as Blue Jays fall in 11 innings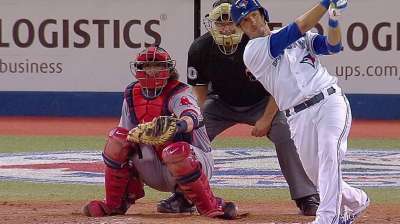 TORONTO -- The Blue Jays' bullpen has been pushed to the brink on more than one occasion, and after months of success, the negative effects are finally starting to show.
Toronto's group of relievers has been among the best in the Major Leagues, but there has been a downward trend in recent weeks and it's likely related to consistently being overworked.
The blemishes became even more apparent on Tuesday night as Aaron Loup and Sergio Santos each surrendered a pair of runs while the offense remained stagnant in a 4-2 loss to the Red Sox at Rogers Centre.
"I think they've done a great job," Blue Jays catcher J.P. Arencibia said. "In this game, nobody is definitely unhittable and even the best of the best give up runs. Maybe I could have called something different."
By now, most who follow the Blue Jays know the story. Toronto's relievers rank first in the Majors in innings and have held the top spot for almost the entire season.
Before the All-Star break, the bullpen was by far the Blue Jays' biggest strength, but predictably the heavy workload has begun to take its toll. First it was an injury to Steve Delabar which was eventually followed by a severe elbow injury to left-hander Juan Perez.
Now the struggles are carrying over into the performance on the mound. Closer Casey Janssen had a pair of rare rough outings this week, while the rest of his fellow bullpen members have seen a large spike in ERA. Since the break, Toronto's relievers have posted a 5.31 ERA which ranks third-worst in the Majors.
This time the final blow came in the 11th after Loup allowed two of the first three batters he faced to reach. The runners later advanced to second and third when Loup found himself one out away from getting out of the jam, but instead surrendered a seeing-eye single up the middle to Boston's Shane Victorino.
"If we get down early, we continue to grind, continue to be relentless at the plate, provide or build opportunities and we finally cashed in with the two-out base hit by Vic," said Red Sox manager John Farrell, whose team moved a season-high 17 games ahead of Toronto with the victory.
The 'pen might be struggling, but an equal amount of blame for Tuesday night's loss will fall on the offense. Toronto has scored a total of three runs over the past two days and five of the club's 12 games this month have resulted in three runs or fewer.
Toronto's biggest problem has been an inability to hit with runners in scoring position. The Blue Jays have hit just .255 in those situations this season, going 2-for-7 on Tuesday and are 4-for-23 with RISP over the past three games.
Arencibia snapped an 0-for-23 skid at the plate with a key RBI single in the fifth while also adding a game-tying solo home run in the eighth. Brett Lawrie enjoyed his fifth multi-hit contest in the past eight games, but outside of those two, the club managed a total of two hits in 11 innings.
"We've been getting some good pitching these last few days, but our offense has just dried up," Blue Jays manager John Gibbons conceded after the game.
Almost lost in the shuffle from the 11-inning loss was an impressive outing by Redmond, who allowed just three hits on the day he was called up from Triple-A Buffalo. Redmond battled out of a tough jam in the first by getting Daniel Nava to fly out with a pair of runners on and was relatively flawless from that point on.
The only thing that stopped Redmond from going deeper was that he hadn't pitched since Aug. 2. The lack of work was going to take a toll on his stamina and forced Gibbons to make a call to the bullpen in what turned into another long night.
Santos was eventually called upon to protect a 1-0 lead and experienced his worst outing since returning from the 60-day disabled list. He was charged with two runs on three hits over just two-thirds of an inning. Will Middlebrooks started the rally with a double, while Jacoby Ellsbury and Dustin Pedroia finished it with a pair of RBI singles.
That forced Redmond to take the no-decision but not before he made a strong case to receive another start. With Josh Johnson on the disabled list and Esmil Rogers struggling, there are a pair of permanent jobs up for grabs and Redmond is doing whatever he can to get noticed.
"I hope I am," Redmond said when asked about making an impression. "But besides that, you have to treat every start like it could be your last. Just go out there, throw strikes and compete."
Gregor Chisholm is a reporter for MLB.com. Read his blog, North of the Border, and follow him on Twitter @gregorMLB. This story was not subject to the approval of Major League Baseball or its clubs.