Flu keeps Harper out of Nats' lineup vs. Giants
Flu keeps Harper out of Nats' lineup vs. Giants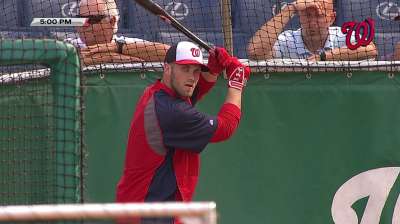 WASHINGTON -- Left fielder Bryce Harper was scratched from the Nationals' starting lineup on Tuesday because he had the flu, according to manager Davey Johnson.
Trainer Lee Kuntz told Johnson that Harper spent most of the team's day off on Monday sleeping, adding that the 20-year-old couldn't eat much. However, Harper did feel well enough to participate in batting practice before Tuesday's series opener against the Giants.
Johnson said that he would have started a healthy Harper against Giants left-hander Madison Bumgarner despite the fact that Harper is batting .172 against lefties this season.
"He's 3-for-9 with a home run [against Bumgarner]," Johnson said. "But we'll give him the day off."
Harper actually entered the game as a pinch-hitter in the eighth inning against reliever Santiago Casilla, and was intentionally walked in his only at-bat.
Right fielder Jayson Werth, meanwhile, returned to the lineup Tuesday after leaving Sunday's game in the seventh inning with a right knee injury. Werth banged his knee while sliding home against the Phillies. He did not have an X-ray on the knee, and Johnson said that the injury was likely just a bruise.
"He looked like his cheerful old self today," Johnson said, smiling.
Tom Schad is an associate reporter for MLB.com. This story was not subject to the approval of Major League Baseball or its clubs.