His '14 option vested, Uehara happy to be returning
His '14 option vested, Uehara happy to be returning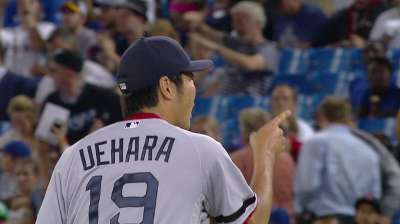 TORONTO -- When the Red Sox announced the signing of Koji Uehara to a one-year deal back in December, there was no mention of an option for 2014.
However, one does exist, and it vested when Uehara made his 55th appearance of the season Tuesday night against the Blue Jays.
Given how much Uehara has meant to the Red Sox this season, the option -- worth $4.25 million -- was a shrewd maneuver by Boston.
And Uehara is excited to know he will return to a place he has felt comfortable since the day he arrived.
"I feel that all the teammates, staff members have been taking care of me," Uehara said. "I think that has absolutely contributed to my good performance."
Uehara has been one of the most valuable players on the Red Sox.
"He's been an outstanding pitcher for us from Day 1. We don't foresee that changing because of the competitor he is and how talented he is and how he prepares," said Red Sox manager John Farrell. "He's done one hell of a job in the roles that he has filled."
In Tuesday's game, Uehara retired all four batters he faced to pick up the win in the Red Sox's 4-2, 11-inning victory over the Blue Jays.
For the season, he is 3-0 with a 1.32 ERA.
Uehara started the season as a setup man before his promotion to the closer role June 21.
"He's been efficient. And by moving to the [closer] role, he knows when he's going to pitch," said Farrell. "I have to believe there is some mental preparation that goes into that outing on a given night, not wondering if it's the seventh or the eighth. He can gear up and prepare the two innings leading up to it. But gosh, you can't take away from how efficient he's been. He's been a savior for us."
With Joel Hanrahan, Andrew Bailey and Andrew Miller all out for the season, Uehara has been a constant for Farrell.
"From a team standpoint, when you close out those games you're supposed to win, I think that eliminates any demoralizing feeling when those games slip away," Farrell said.
While Uehara is pleased he will be back with the Red Sox next season, he didn't spend a lot of time thinking about the option.
"I didn't think about it at all," Uehara said. "If I did, I wouldn't be able to pitch as I've been pitching lately."
Ian Browne is a reporter for MLB.com. Read his blog, Brownie Points, and follow him on Twitter @IanMBrowne. This story was not subject to the approval of Major League Baseball or its clubs.