Soriano powers Yanks with two homers, six RBIs
Soriano powers Yanks with two homers, six RBIs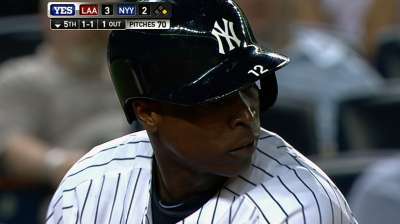 NEW YORK -- The Yankees are banking on strong pitching and timely hitting to keep their schedule running into October, but their long playoff odds will start to look much better if their lineup can consistently produce this brand of thunder.
Alfonso Soriano homered twice and drove in a career-high six runs to pace one of the most potent displays by the offense this year, helping the Bombers pound Angels pitching for a season-high 19 hits in a 14-7 victory on Tuesday night at Yankee Stadium.
"It felt more like the old days," Soriano said. "We scored 14 runs today, so I hope we can do that more often. I know it can't happen every day because the other team gets paid to get us out, but I hope we continue playing like we played tonight."
Vernon Wells also homered and Alex Rodriguez belted a two-run double as the Yankees matched their highest run total of the season, having also battered the Indians for 14 runs back on April 9 in Cleveland.
The Yankees (61-57) remained 9 1/2 games back of the Red Sox in the American League East, but now sit just 5 1/2 back in the chase for the second Wild Card, their best chance to extend their string of postseason play for an 18th entry in 19 seasons.
"We know that everything is there," Yankees outfielder Curtis Granderson said. "All the pieces have been here. It's just a matter of getting things to go at the right time. If we're able to swing the bats, that's a plus, but ... this isn't going to be the case for every game. But when you do get them, take advantage."
Yankees manager Joe Girardi said that he would gladly accept this brand of offensive production every night, but he was actually more pleased with the start by CC Sabathia, who picked up his first win since July 3.
It was an odd start for Sabathia, who permitted only three hits but walked a season-high six, including one with the bases loaded. He had to grind through throwing 110 pitches over six-plus innings in part due to shaky defense that gave the Angels several extra chances.
"I thought CC was excellent," Girardi said. "He probably should've pitched about eight innings with as many outs as he got, but we gave him a lot of extra outs. He kept them in check."
Sabathia managed to limit the Angels to three runs, including Mark Trumbo's first-inning two-run homer, the 26th long ball surrendered by Sabathia this season. The Halos, who have lost 13 of 18, had two hits in the first inning and didn't log another until the seventh.
"I was just able to pick these guys up today," Sabathia said. "I feel like, throughout the course of the year, I haven't been able to make pitches and eliminate some of the errors. So I was able to do that tonight and we got the win."
Activated from the disabled list before Tuesday's game, Angels starter Jason Vargas was hit for four runs and eight hits in 4 1/3 innings, serving up Wells' second-inning homer -- his first since May 15 -- and Soriano's first shot of the night, a go-ahead two-run blast in the fifth.
The Yankees caught a break in the sixth as, with the bases loaded and one out, Angels second baseman Tommy Field lifted what looked like it would be a game-tying sacrifice fly to left field.
But the Yankees' bench kept tabs on Chris Nelson tagging up at third base and immediately yelled at catcher Austin Romine to throw to third for the double play. Home-plate umpire David Rackley saw Nelson leave third base early, ruling Nelson out and allowing Sabathia to escape with a one-run lead intact.
"He was there and he was gone when I looked down, so I thought maybe there was a chance that he had left early," Yankees third baseman Jayson Nix said.
Angels manager Mike Scioscia vehemently argued the call, but its importance soon diminished. The Yankees scored four times in the sixth against three Angels pitchers, highlighted by Soriano's RBI single and A-Rod's two-run double.
"The way the game turned out, you can't really look at one play and say it makes the difference," Scioscia said. "But if we tie the game in the sixth inning, there's no doubt we have a little different lineup as far as our bullpen. It might have affected the game."
New York poured on four more in the seventh, with Soriano clubbing a three-run shot off Joe Blanton to right field, marking the 34th multihomer game of his career.
"He said he was feeling good today and sure enough, he went out there and delivered," Granderson said. "He hit a ball to left and a ball to right. That's a good sign for a hitter that's starting to get hot. Hopefully, it's a good sign of things to come."
Eduardo Nunez also drove in four runs for the Yanks, who weathered a rough 2013 debut by right-hander Dellin Betances and a late 26-minute rain delay to secure wins in three straight games for the first time since July 10-12 vs. Kansas City and Minnesota.
"That's why I love the Yankees," Soriano said. "The clubhouse and the dugout are always relaxed because everybody has confidence. That's the most important thing. Sometimes we may not play good, but we haven't lost the confidence. Everybody feels comfortable and that's what I like."
Bryan Hoch is a reporter for MLB.com. Follow him on Twitter @bryanhoch and read his MLBlog, Bombers Beat. This story was not subject to the approval of Major League Baseball or its clubs.