Bullpen buckles after call goes against Angels
Bullpen buckles after call goes against Angels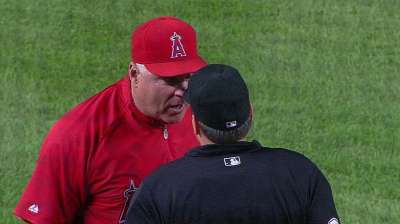 NEW YORK -- Perhaps home-plate umpire David Rackley had no business ruling that Chris Nelson left third base early on that tag-up play in the sixth inning. And maybe if that tying run does score, everything about the way Tuesday night plays out is different.
"Yeah, it's unfortunate," Angels losing pitcher Jason Vargas said. "But we have to be able to deal with that."
Like most other obstacles in this trying season, the Angels didn't deal with it very well at all.
Instead, they unraveled.
Shortly after Nelson was ruled out at third base for an inning-ending double play, their bullpen yielded 10 runs in the next three innings en route to a 14-7 defeat and a third consecutive loss. The Angels have dropped 13 of their last 18 overall, 12 of their last 15 on the road and eight of their last 10 at Yankee Stadium.
After an ugly three hours and 33 minutes of baseball -- briefly brightened by a four-run ninth inning that was highlighted by Mike Trout's three-run homer -- Angels manager Mike Scioscia was left wondering what might have been.
"The way the game turned out, you can't really look at one play and say it makes a difference," Scioscia said. "But if we tie the game in the sixth inning, there's no doubt we have a little different lineup as far as our bullpen we can use, and it might've affected the game."
Just before J.C. Gutierrez, Nick Maronde and Michael Kohn yielded a four-run sixth inning, and long before Joe Blanton allowed six runs on eight hits in two frames of shoddy relief work, the Angels (53-65) had a legitimate gripe.
With the bases loaded, one out and the Angels down, 4-3, against CC Sabathia in the top of the sixth, Tommy Field hit the line drive that nearly got Scioscia ejected.
Nelson appeared to wait until left fielder Alfonso Soriano made the catch, then took off toward home plate.
"I knew I tagged up," Nelson said. "It felt that way."
But when Yankees catcher Austin Romine fielded Soriano's late throw home, he fired over to third baseman Jayson Nix, and Rackley signaled the out call that led to a 7-2-5 double play.
"He was there and he was gone when I looked down," Nix said, "so I thought maybe there was a chance that he had left early."
But replays showed he didn't, and Scioscia was furious, getting in the face of Rackley -- a replacement umpire -- and then taking his time on a couple of pitching changes in the bottom half of the inning to send a message.
"I don't know how he could've seen it, first of all, and if he did see it, his foot was on the bag when he caught the ball," Scioscia said. "A runner's body will move. That's what you teach. You get momentum, get your body going, your foot's on the bag until that ball's caught. I thought Chris did it perfectly. I just don't know how he had any angle to see that, or any ability to make a call like that."
The Angels got on the board on a first-inning two-run homer by Mark Trumbo, but that only meant that 10 of their last 13 losses have now featured games in which they led at some point. They drew six walks in six innings against a reeling Sabathia, who had an 8.61 ERA in his previous four starts, but were only able to push three runs across.
Vargas, making his first start since June 17 because of a blood clot, lasted 4 1/3 innings, giving up four runs on eight hits -- two of them homers -- in a restricted, 77-pitch outing. His biggest mistake was a fastball that didn't run inside enough to the right-handed-hitting Soriano, who belted it out for a go-ahead two-run homer in the fifth -- his first of two homers on the night and two of a career-high six RBIs.
"It feels more like the old days," Soriano said of the Yankees, who have won four of their last five to move to four games above .500.
One inning later, the Yankees' offense erupted, turning the second of a four-game series into a laugher.
But the controversial tag-up play at third kept gnawing at the Angels late into the night.
"It's a tied ballgame then," Vargas said. "Obviously, we all saw the replay. Those are things that you can't change. I made a mistake tonight to Soriano, and [umpires are] human, they're going to make mistakes, too. Sometimes it changes the [complexion] and changes the way momentum shifts."
Alden Gonzalez is a reporter for MLB.com. Read his blog, Gonzo and "The Show", and follow him on Twitter @Alden_Gonzalez. This story was not subject to the approval of Major League Baseball or its clubs.