Cards get gift from Bucs in ninth, unwrap it in 14th
Cards get gift from Bucs in ninth, unwrap it in 14th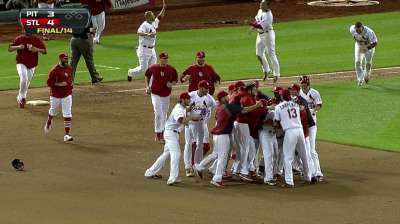 ST. LOUIS -- There was little that went by script at Busch Stadium as Tuesday night turned to Wednesday morning.
The ace pitcher the Cardinals had pushed back to set the tone in a key division matchup sunk his club into a hole early. A routine catch not made gave St. Louis an extra breath late. The Pirates stalled rallies by moving an infielder to the outfield and later adding an outfielder to the infield. And a Cardinals middle reliever would twice find himself batting with the winning run 90 feet from home.
So, of course, it would be the team's fourth outfielder -- one who has been with the club for only two weeks and had one hit during that stay -- who would end the 4-hour, 55-minute affair. With Adron Chambers' single to left and Jon Jay's slide around catcher Russell Martin, the Cardinals set off celebrating a 4-3, 14-inning win in front of those who remained from an announced crowd of 40,243.
"It was one of those ones that you just felt you had to win somehow," manager Mike Matheny said.
"This was a game we needed to win," added Jay. "We need to start making things happen."
For a team so adept at hitting in clutch spots this season, the Cardinals had been puzzlingly poor in pulling themselves out of deficits. Before Tuesday -- the team's 118th game of the year -- the Cards had not come back to win a game in which they were behind by more than two. They were 1-37 when trailing after seven, winless when trailing after eight, and without a walk-off hit.
The Cardinals bucked all those trends in order to move within two games of the division-leading Pirates. It was just the 19th come-from-behind win the team has had all season.
"That story today, the rest of the team just stepped up and played a great game," said Adam Wainwright, who covered the first seven innings. "We kept hitting liners to people. They had crazy shifts on that worked every time. And somehow, we found a way to win that game. That was a huge win."
The Pirates scurried their way to a 3-0, second-inning lead against Wainwright before going scoreless for the final 12 frames. Five Cardinals relievers carried the game behind Wainwright. Eventually, Sam Freeman would be awarded his first Major League win.
"Phenomenal," Matheny said of his bullpen. "All the way down the line, the guys did a terrific job."
The offense began pecking away at the deficit in the sixth, using four singles against starter Charlie Morton to pull within one. But they continued to strand runners, too, including two in the eighth when Neil Walker, defensively aligned several feet into the right-field grass, snagged Matt Adams' liner with the potential tying run at third.
The game extended into extras only because of a ninth-inning gift from Pirates left fielder Starling Marte. Sauntering in to make a routine catch with none on and one out, Marte let Daniel Descalso's fly ball hit off his glove. Descalso ended up at second. Three batters later, Allen Craig collected another two-out RBI hit to tie the game.
Using bullpen catcher Heberto Andrade as a translator, Marte indicated afterward that he was overconfident on the play.
"I feel bad," Marte said. "It cost us the game."
Given the additional life, the Cardinals kept the pressure on. An intentional walk to Chambers loaded the bases in the 10th before Pete Kozma's strikeout and a flyout by Descalso ended that chance. A critical exit came during that inning, too, when Joe Kelly subbed in to pinch-run for Matt Holliday.
Kelly offered the Cardinals more speed, and Holliday was moving gingerly after suffering a mild ankle sprain while on the basepath.
The move would be exposed in both the 11th and 13th, when the lineup twice found new cleanup hitter, reliever Seth Maness, in key situations. After Craig was intentionally walked in front of him in the 11th, Maness, with the Pirates playing with an infield of five and runners at the corners, grounded into a double play.
Matheny explained afterward that he chose to have Maness swing instead of attempt a bunt because he "wanted to take a chance, take a shot." There were no position players left to pinch-hit, either.
Two innings later, after Maness induced his 14th double play from the mound, two more intentional walks brought him to the plate with the bases full. He struck out to sap that threat.
"Being a reliever, [I'm] not expecting to have the bat in [my] hands," Maness said. "But it's something you do have to be prepared for, and I'll be a little more prepared next time."
Freeman worked around a one-out walk in the 14th, and the offense would then stir for the final time. Jay was credited with his fourth hit of the game on a hard grounder that shortstop Clint Barmes couldn't corral. He swiped second, putting him in position to score when Chambers poked a single through to left off Jared Hughes for his first RBI of the season.
"Golly, I feel like I've been missing everything," Chambers said. "I just wanted to stay short and give it all I got. He gave me one to hit, and I was able to come through for us."
Wainwright, though not super sharp after three extra days of rest, recovered from an arduous start to keep the potential for a late rally alive. Andrew McCutchen tagged Wainwright for a two-run homer during a 33-pitch first. Jordy Mercer's solo shot in the second padded Pittsburgh's lead.
Wainwright walked a season-high three and threw a season-most 122 pitches in what Matheny described as the "gutsiest performance we've had all year."
In all, the Cardinals used 20 of their 25 players, threw 227 pitches, stranded 17 on base and finished 4-for-14 with runners in scoring position.
"There was a lot to it, no question," Matheny said. "I think sometimes if you have a win like tonight, that can be the catalyst to let [comeback victories] happen more frequently."
Jenifer Langosch is a reporter for MLB.com. Read her blog, By Gosh, It's Langosch, and follow her on Twitter @LangoschMLB. This story was not subject to the approval of Major League Baseball or its clubs.