Pirates drop stunner to Cardinals in 14 innings
Pirates drop stunner to Cardinals in 14 innings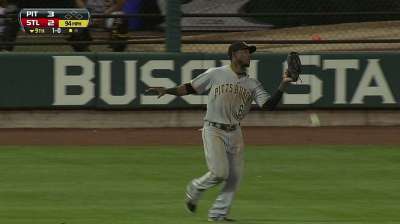 ST. LOUIS -- Starling Marte's hand, thankfully, was not broken. His heart wasn't as fortunate Tuesday night.
Marte, back in his left-field home for the Pirates, dropped a simple fly ball with one out in the ninth inning, a two-base error that opened the door to the Cardinals' tying run five innings before they scored what had by then become the inevitable winning run.
Ending a turbulent game the only way possible, speedster Adron Chambers' RBI single with one out in the 14th gave St. Louis the 4-3 win in a game that drained 40,243 in Busch Stadium -- although only a fraction of that original crowd remained at the 12:12 a.m. CT resolution.
Although preceded by moments of uncommon strategy and valor -- like Vin Mazzaro escaping a bases-loaded, one-out jam in the 10th, and an effective five-man infield with runners at the corners and one out in the 11th -- ultimately the agonizing defeat raised the Pirates' losing streak to four and dropped their NL Central lead over the Cardinals to two.
It would be appropriate to say the Cardinals got the drop on the Pirates in the opener of this key series.
"I was overconfident on that play," Marte, speaking with bullpen catcher Heberto Andrade interpreting, said softly of his misplay of Daniel Descalso's flare to shallow left-center. "It can happen to anyone, and I just want to move on. But, yes, I feel bad. It cost us the game."
Not so fast, Marte. The Pirates had numerous chances to erase, or at least turn irrelevant, Marte's gaffe. But in going 1-for-12 with men in scoring position -- that one was an infield single by Pedro Alvarez that did not result in a score -- the Bucs left 11 men on base; six of those came in extra innings.
"Marte's probably not in a good place right now," Pirates manager Clint Hurdle said. "There are some hard lessons to learn from time to time. He wasn't able to make the play, and we got nicked for a run.
"At the end of the day," Hurdle went on, "we weren't able to push a run across after the second. And we had multiple opportunities. Our guys battled. We threw everything out there. They threw everything out there. Two teams, playing really hard."
This wasn't just a heavyweight fight. It was a heavyweight fight from the bare-knuckles days, when it would not end until one of the combatants dropped from exhaustion.
Jared Hughes, Pittsburgh's seventh pitcher of the night, gave up Jon Jay's hard-hit single through shortstop Clint Barmes' glove with one out in the 14th. Jay swiped second base to run himself into position to score as Chambers punched a single into left for his first RBI of the season.
"This was a game we needed to win. We just kept fighting hard, and we were able to come through at the end. That was huge for us," said Jay, who said of his fourth steal of the season, "The opportunity was there and we took it. That ended up being a big part of the game."
Finally losing their grip on what remained of an early 3-0 lead, the Bucs had seen Allen Craig, the Majors' most prolific clutch hitter, convert Marte's gaffe into the tying run with a two-out single in the ninth off Mark Melancon.
"You'll probably never see that again out of that guy. He's such an amazing player," St. Louis starter Adam Wainwright said of Marte, and the play that took him off the loser's hook.
Marte's miscue turned around the Cardinals' lineup to the dangerous top of their order, and with two outs Craig turned it into the tying run with a sharp single to right.
With first base open, Melancon had walked Carlos Beltran to get to Craig. Despite the latter's renown for hitting with men in scoring position -- 52-for-112 (.464) in those situations -- Melancon admitted pitching around the switch-hitting Beltran to get to the right-handed-hitting Craig.
"I didn't want to give [Beltran] anything to hit. If I walked him, I was fine with that," Melancon said.
Andrew McCutchen gave the Pirates a Dorothy-like ("We're not in Colorado anymore") wakeup call in the first inning, following Neil Walker's single with his 17th homer, sliced into the right-field corner.
With one out in the second, Jordy Mercer lined one into the left-field stands for his fifth home run and a 3-0 lead.
The eight days' rest may have dulled Wainwright's edge. He got increasingly sharper and more efficient as the game progressed. After requiring 33 pitches to get through the first, the right-hander needed 17, 15, 14, 15, 11 and 16 to navigate the next six innings.
The early runs were nice -- the Pirates had not had a lead as big as three runs in nine days -- but starter Charlie Morton's reaction to them was even nicer. One of the Bucs' shortcomings in Colorado was the so-called "shutdown inning," putting up a zero for the other guys after yours score.
After seeing his compadres go only 2-for-5 on that score in the Rockies series, Morton blanked the Cardinals both after McCutchen's blow and Mercer's, and kept putting up the goose eggs through five.
The Cardinals broke through Morton in the sixth, when they forced him to the absolute ledge but could not push him over the edge. St. Louis loaded the bases with none out on consecutive singles by Beltran, Craig and Matt Holliday. Morton splintered David Freese's bat on a pitch that turned into a double play, scoring one run, and Jay's opposite-field single plated Craig to pare the Bucs' lead to 3-2.
Hurdle got Morton off the tightrope after that inning. He allowed seven hits -- four of them in that two-run sixth -- and two runs, with two walks and three strikeouts. It was, really, the ultimate Morton game, a peak performance from someone who mystifies, not overpowers, hitters.
"The only pitch he might want to have back is the one to Jay that nicked him for the second run," Hurdle said. "He gave us a good start. He has good command of the fastball; real solid through five."
At the end of his day, Wainwright was also typical, which made him very good. In seven innings, he gave up five hits -- one after the second -- while walking three and striking out six.
At the end of everyone's day, Hurdle waved off the idea that the pieces -- 12 innings of offensive silence, the inability to profit from numerous defensive stratagems that bordered on genius, Marte's drop -- made this whole particularly hard to stomach.
"We're good at keeping it in context," Hurdle said. "Not multiplying or overcooking it. It was a loss. One loss."
And it was at least decided before they got to that dreaded 19-inning mark. So there's that.
Tom Singer is a reporter for MLB.com and writes an MLBlog Change for a Nickel. He can also be found on Twitter @Tom_Singer. This story was not subject to the approval of Major League Baseball or its clubs.