Rosales back with his new, old team
Rosales back with his new, old team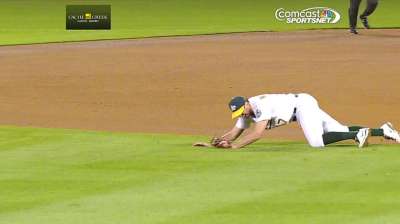 ARLINGTON -- Adam Rosales reunited with his old team before Tuesday's game. That would be the Rangers this time, not the A's. The utility infielder was claimed by Texas for a second time in a 10-day span on Monday. He was designated for assignment twice by the A's and once by the Rangers in that stretch.
"It's like I got sent down to Round Rock and came back," Rosales said. "It's like I never left.
"It's an experience not many people go through. I feel like I have the personality and the character to do it. Every time I get back on the field, I feel like I'm where I need to be. You have a lot of waiting around, especially the role I'm playing, so I've got to be patient. I'm really testing my patience."
Engel Beltre was optioned to Triple-A Round Rock to make room for Rosales' return with the Rangers. Rosales was active for three games in his first stint with Texas, when he was designated for assignment due to Nelson Cruz's suspension. The Rangers went with a platoon strategy in right field to makeup for Cruz's absence until they acquired Alex Rios last weekend. Rosales gives the club a backup infielder with the departure of Leury Garcia in the Rios trade.
"We wanted him when we claimed him the first time," Rangers manager Ron Washington said. "We were just hoping no one would claim him when we put him back out there.
"Him not playing for a while isn't an issue, because that's what he did. He didn't play for a while."
Rosales shipped his items and his car to Texas a week ago, when the club claimed him the first time. He left it in Texas with the uncertainty of his situation with the A's, who eventually designated him for assignment again.
"We just figured that the Rangers showed interest in me last time," Rosales said. "If they showed interest again, then this is where I'll be. I made a good judgement call there by not panicking and having it shipped, because it'd probably just get to Oakland and we wouldn't have a car."
Master Tesfatsion is an associate reporter for MLB.com. This story was not subject to the approval of Major League Baseball or its clubs.