Thornburg's outing could be his last start for a while
Thornburg's outing could be his last start for a while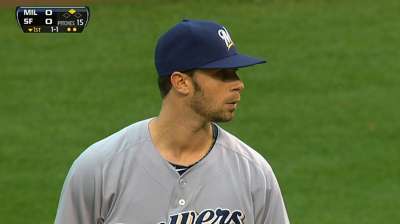 ARLINGTON -- Tyler Thornburg will make at least one more start for the Brewers, on Wednesday, but the starting rotation is about to undergo a shakeup now that Yovani Gallardo is set to return later this week.
"Something will have to happen there when Yo comes back," manager Ron Roenicke said. "We're not going to go with six starters right now, so somebody will slide back to the bullpen, and then somebody's going to have to go out."
It could be Thornburg, who will be making his third start of the season for Milwaukee. The rookie right-hander hasn't allowed an earned in his two starts, lasting six innings in both, with five walks and 10 strikeouts. He scattered seven hits in his previous start, last Saturday in San Francisco.
"The last two starts were a good building block, and I hope I can keep it going," Thornburg said.
Thornburg has a 1.72 ERA in 31 1/3 total innings with Milwaukee this year -- significantly better numbers than he has had at Triple-A Nashville, where he was 0-9 with a 5.79 ERA in 15 starts. But he had 87 strikeouts in 74 2/3 innings there.
"I really didn't feel like I was pitching that bad down there," Thornburg said. "But at the same time, since I've been up here, I've been able to lock in a little more and really actually pitch instead of trying to get a lot more strikeouts down there."
Dave Sessions is a contributor to MLB.com. This story was not subject to the approval of Major League Baseball or its clubs.