Texas' eight-game winning streak snapped by Crew
Texas' eight-game winning streak snapped by Crew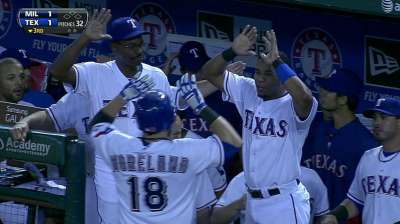 ARLINGTON -- Alexi Ogando tied his second longest outing this season at 6 1/3 innings on Tuesday against the Brewers. The right-hander could've gone deeper, but he was hurt by three home runs to the bottom of Milwaukee's lineup in a 5-1 loss at Rangers Ballpark, snapping the club's eight-game winning streak.
"It's improvement, now we just got to keep that long ball from happening," Rangers manager Ron Washington said about Ogando's outing.
Ogando threw only 73 pitches (47 strikes) in his 15th start of the season. He allowed home runs to Scooter Gennett -- a rookie who had his first multi-homer game -- in the third and fifth innings. Gennett's solo shot to the Home Run Porch in right gave the Brewers a 1-0 lead. In his next at-bat, Gennett hit a two-run smash, again to right. He entered Tuesday's game with only two career home runs.
"One was supposed to be a heater away, the other a changeup, and they both ended up down and in, right into his power," catcher A.J. Pierzynski said. "He didn't miss it. I'm sure it's a night he'll remember for a long time."
Fellow rookie Khris Davis hit a home run off the left-field foul pole on the first pitch of his at-bat with one out in the seventh to end Ogando's night. The right-hander allowed four runs on six hits and two walks with three strikeouts.
"I thought my command on my pitches was working a lot better, but I left some out there and they took advantage of them," Ogando said through an interpreter.
Ogando hadn't allowed a home run in his previous seven home starts, since Aug. 25, 2011, when he allowed four to the Red Sox. It's just his fifth multi-home run start in 45 career starts, and two have occurred this season.
"He got us into the seventh inning," Washington said. "You can always look back and dissect. If we could've put some runs on the board, it might've been a different story."
The Rangers managed their lone run on Mitch Moreland's home run to right field in the third. It was his 17th home run this season and tied the game, but Marco Estrada shut down the rest of the lineup in six innings to receive his first win since May 24. He allowed just four hits and struck out two on 76 pitches. Estrada has allowed one run in his two starts (11 innings) since he returned from the disabled list with a strained left hamstring.
"It's a confidence booster, I felt great," Estrada said. "I was just trying to make pitches. I know it's a very good hitting team, and when somebody gets on you don't try to be perfect, you just try to keep the ball down and low and just make your pitches."
Although the Rangers have averaged an MLB-high 6.1 runs per game since June 29 entering Tuesday's contest, they left seven runners on base and went 1-for-11 with runners in scoring position after batting .318 in that situation the last 13 games.
Ian Kinsler was stranded on second in the seventh after getting there with no outs, and the Rangers also left the bases loaded in the eighth after Elvis Andrus struck out and Kinsler lined out.
"I don't think we were out of sorts," Washington said. "I think you got to give Estrada credit. He kept us off balance. We had some chances there to make a difference, and we didn't. His bullpen came in and did the rest. We got the tying run at the plate, had the right people up and they just got the outs they needed."
The Brewers tacked on another run in the eighth by stealing home. Jean Segura stood frozen on the third base with two outs on A.J. Pierzynski's throw to Adrian Beltre, who threw back home in the rundown. Pierzynski made a poor throw the second time, allowing Segura to slide home safely.
"I just got rid of the ball too early," Pierzynski said, who took full responsibility for the run scoring. "I've got to run it back more. When I threw, my foot kind of slipped out from under me on the grass. I didn't run it back far enough, and it put [Beltre] in a bad situation. That guy is really fast. We got the ball back to me, he blew by me."
The start of the game was delayed 42 minutes due to rain.
Master Tesfatsionis an associate reporter for MLB.com. This story was not subject to the approval of Major League Baseball or its clubs.