Gindl sent down, but should be back soon
Gindl sent down, but should be back soon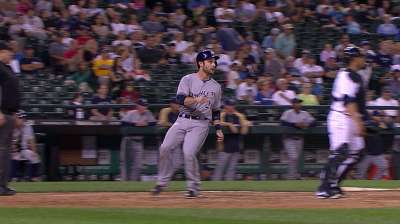 ARLINGTON -- His bags packed, Brewers rookie outfielder Caleb Gindl exchanged the customary handshakes and well wishes with teammates on Tuesday as he prepared to return to Triple-A Nashville after he was optioned to make room for Aramis Ramirez.
It was the second time this season Gindl has been sent down, but it was not all bad news. In his second stay in the Majors, Gindl performed well, with a .293 batting average (17-for-58), a .379 on-base percentage and a .483 slugging percentage in 22 games and 16 starts in the last month.
Moreover, Gindl will likely get to return as a September callup.
"I'll go back down and I'll hit and get myself right back up here," he said.
Gindl, who has hit .294 at Nashville and .282 with Milwaukee this season, said he spent much of his most recent Major League stint talking to older players to learn more about the game at its highest level. Starting pitcher Kyle Lohse was a frequent mentor, Gindl said.
"I talked to Lohse a lot as far as the way he pitches, the way he goes about things, trying to get me a better approach when I face a veteran pitcher, how he's going to go about his business," Gindl said. "I think that really helped me this go-around.
"This time, I learned more. The first time, you're in awe and you don't know what to expect. This time, you really pay attention, you settle down and you really learn a lot more."
The left-handed Gindl was the odd-man out among three young Brewers outfielders, manager Ron Roenicke said. Rookie Logan Schafer and Khris Davis remain with the club.
"It's a tough call, just because he's doing well for us," Roenicke said of Gindl.
Dave Sessions is a contributor to MLB.com. This story was not subject to the approval of Major League Baseball or its clubs.