Prospect Gennett hits two home runs to lead Crew
Prospect Gennett hits two home runs to lead Crew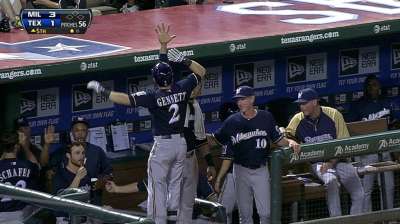 ARLINGTON -- At this early stage in their careers, every home run Scooter Gennett and Khris Davis hit for the Brewers is a milestone. But Tuesday's were more memorable than usual for the Milwaukee youngsters, as they provided the bulk of the Brewers' offense in a 5-1 victory over the Rangers.
Gennett's third and fourth home runs of his career gave the Brewers their first three runs. Davis added a solo shot that helped insure a win for Marco Estrada, who allowed one run on four hits in six effective innings.
"There's no pressure on us," Gennett said. "This season hasn't really gone our way early on, and really right now all we're trying to do is grind it out and prove to everybody that we are a good team. The pressure's not on us -- we get to come in, play relaxed and see what happens."
Davis and Gennett had just five Major League home runs between them entering Tuesday, but now they're tied at four apiece. Both hitters took advantage of a lackluster outing by Rangers starter Alexi Ogando, who surrendered four runs on six hits and two walks in 6 1/3 innings.
The left-handed Gennett led off the third with a 394-foot blast that reached the upper deck in right field. Then, with one out in the fifth, Logan Schafer drew a five-pitch walk from Ogando and Gennett followed with another homer to right, this one a 360-foot line drive.
After his first homer, Gennett's teammates nonchalantly ignored him in the dugout as a joke, but they couldn't help but celebrate with him after the second.
"They gave me the silent treatment," Gennett said. "It was actually a really good one."
Rangers catcher A.J. Pierzynski said both the home-run pitches "ended up down and in right into his power. He didn't miss it. I'm sure it's a night he'll remember for a long time."
Brewers manager Ron Roenicke said it plain that he doesn't want Gennett, a 5-foot-10, 180-pound second baseman, to start swinging for the fences, but Gennett's slugging display didn't surprise him.
"He's got power, he's a good hitter," Roenicke said. "He's certainly got enough when he squares it up that he's going to get some homers."
After Gennett put the Brewers up 3-1, Davis pulled a fastball over the left-field fence with one out in the seventh to end Ogando's night.
Estrada kept the Rangers at bay, with few problems save for the third inning, when he allowed his only run. He retired the first six batters he faced before Mitch Moreland's homer to right. Jurickson Profar singled and took second on a wild pitch, but Estrada retired the next three hitters to end the inning.
The Brewers turned a double play to end the fifth and caught Leonys Martin stealing for the second out in the sixth, so when his night was over, Estrada had faced only two batters over the minimum for six innings (20).
"Overall, I can't complain about this," Estrada said. "I kept the team in the game and we pulled it off. It's a confidence booster. … I know [Texas is] a very good hitting team, and when somebody gets on you don't try to be perfect, you just try to keep the ball down and low and just make your pitches."
Estrada threw only 76 pitches, 48 of them strikes. But Tuesday was his second start since returning from a more than two month absence due to a hamstring injury. He also threw 76 pitches in his first outing off the disabled list, on Aug. 7 in San Francisco, though Roenicke said Tuesday's outing was cut short not by a tight pitch count, but by fatigue.
"A really nice outing," Roenicke said of Estrada's night. "He comes out, commands the ball, keeps it down, his changeup was really good, he threw some nice curveballs, got in a little bit of trouble -- not that much -- then he ran out of gas. He did a real nice job."
Jean Segura scored the Brewers' final run in the eighth when he stole home, sort of, on a busted rundown. Segura singled, stole second and took third on a wild pitch. Then he strayed too far off third, prompting Pierzynski to make a pickoff throw to third baseman Adrian Beltre, who threw back to Pierzynski, who threw back to Beltre, who threw to Pierzynski for a play at the plate. Segura barely avoided the tag and was credited with a steal.
Brandon Kintzler pitched a scoreless seventh, but the Rangers threatened in the eighth with three hits off Michael Gonzalez to load the bases with one out. Rob Wooten came in and struck out Elvis Andrus, and Jim Henderson got Ian Kinsler to line out to third base to end the inning.
Henderson worked the ninth for his second four-out save in less than a week -- and 17th of the season -- and the Brewers picked up their fifth win of the nine-game road trip that ends Wednesday in Texas.
Dave Sessions is a contributor to MLB.com. This story was not subject to the approval of Major League Baseball or its clubs.