Manuel 59th skipper with 1,000 wins
Manuel 59th skipper with 1,000 wins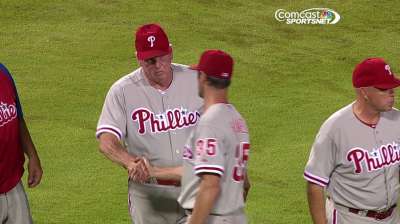 ATLANTA -- Charlie Manuel became the 59th manager in baseball history to win 1,000 games when the Phillies beat the Braves on Monday. He is one of eight active skippers with 1,000, joining Dusty Baker, Bruce Bochy, Terry Francona, Davey Johnson, Jim Leyland, Mike Scioscia and Buck Showalter.
According to the Elias Sports Bureau, Manuel has the 19th-best winning percentage (.548) among managers with 10 or more seasons of experience.
Todd Zolecki is a reporter for MLB.com. This story was not subject to the approval of Major League Baseball or its clubs.