Confident Medlen takes care of Phillies with arm, bat
Confident Medlen takes care of Phillies with arm, bat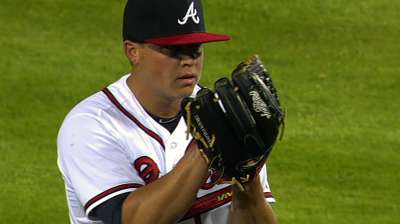 ATLANTA -- If Kris Medlen extends his recent success and produces yet another impressive stretch over the season's final two months, he might want to find a way to convince himself that August and September are the only months that comprise any of his future seasons.
Medlen has spent the past week distancing himself from this year's frustrations and evoking memories of the dominance he displayed while posting a 0.97 ERA in his final 12 starts of 2012. The seven-plus strong innings he provided in Tuesday night's 3-1 win over the Phillies simply gave the Braves more reason to believe they'll once again be able to rely on him down the stretch.
"It's starting to click," Medlen said. "I just need to keep it going into the last month of the season."
Medlen was in total command, scattering five hits and working into the eighth inning for just the second time this season. The athletic pitcher, who has never been shy about reminding people that he was a skillful shortstop during his junior college days, also helped himself with a two-out RBI double that plated Tyler Pastornicky with the game's first run.
"That's what you try to do every day," Medlen said. "Obviously, we've been told we don't get paid to hit and whatever else. But any time you can contribute with the bat -- getting bunts down and getting hits -- obviously it's going to help you and help your confidence going back to the mound the next inning."
Medlen's comfort was further enhanced in the third inning, when Chris Johnson gave the Braves a three-run lead with a line-drive two-run homer that bounced off the top of the left-field wall. It was Johnson's third home run of August and the second off Ethan Martin, a Georgia native who has now made two of the first three starts of his big league career against his once-beloved Braves.
"[Martin] threw a lot of fastballs, and Johnson finally timed one," Phillies manager Charlie Manuel said. "That really hurt him."
Even before gaining the early advantage, Medlen entered a groove that carried him throughout most of his outing. After allowing consecutive one-out singles in the first inning, he retired 16 of the next 17 batters he faced. His successful stretch ended in the sixth, when Chase Utley hit a two-run double and scored on Domonic Brown's RBI single.
That single accounted for the only run charged to Medlen, who exited to a standing ovation after walking Erik Kratz to open the eighth inning. David Carpenter preserved Medlen's effort by getting Jimmy Rollins to ground into a double play to end the eighth.
"I think the past couple [of starts] have been my best outings of the year," Medlen said. "I feel like I've been locating better. My changeup has been pretty good, and I've been throwing some pretty good curveballs. To have that third pitch is pretty huge for me -- to have it as an out pitch and a pitch I can throw for a strike."
In winning 16 of their past 18 games, the Braves have gained a comfortable lead atop the National League East and the right to begin discussing -- at least internally -- options for their postseason rotation.
When Medlen compiled a 5.53 ERA and allowed opponents to produce a .361 on-base percentage against him in the seven starts he made between June 14 and July 23, he certainly did not appear to be a candidate to gain a playoff start. In fact, as July neared its end, the Braves were still contemplating moving him to the bullpen.
It's safe to say those thoughts have evaporated over the past week.
"When you're pitching well and getting results, your confidence level's going to rise, but he's been really, really good," manager Fredi Gonzalez said. "Today I thought [he threw] the best curveball I've seen in a while, mixing with his changeup, fastball, both sides of the plate."
Although mechanical issues led to inconsistency with fastball command through most of the season's first four months, Medlen remained confident that he would eventually get back to where he felt comfortable.
In addition to proving much more consistent with his fastball location, Medlen has truly benefited from the ability to once again use his curveball in any situation.
"I just think for some guys it takes a little longer for things to click," Medlen said. "It's easy to be competitive when you know you have your good [stuff] that day. You can always battle. But when you have your good stuff, it's easier to get guys out."
Mark Bowman is a reporter for MLB.com. This story was not subject to the approval of Major League Baseball or its clubs.