Young stars emerging as new faces of MLB
Young stars emerging as new faces of MLB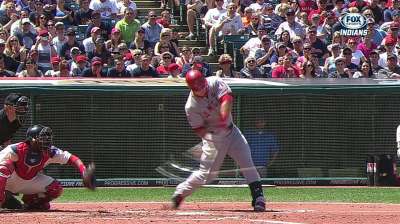 Albert Pujols, Ichiro Suzuki, Derek Jeter, Roy Halladay: These likely future Hall of Famers were all left off the roster for the 2013 All-Star Game in New York. New faces such as Adam Jones, Chris Davis and Bryce Harper filled the starting lineups. Long gone are the days of Randy Johnson, Roger Clemens and Barry Bonds. Fans are now coming to realize that the transition period has already begun.
The decline of these aged players shows how there is an identity crisis in baseball. When you think about the sport of basketball, LeBron James immediately comes to mind. Considering the sport of football, you might think of Tom Brady or Aaron Rodgers. The sport of hockey displays two phenomenal athletes in their prime: Sidney Crosby and Alex Ovechkin. Baseball's identity, on the other hand, is a bit more ambiguous. Baseball fans think of players like Pujols, Jeter and Alex Rodriguez. The first two have been plagued by injuries, while the latter is being shunned by many in the public. Who is the face of baseball?
Perhaps this notion of a lack of identity is brought upon by the nature of the sport. The usage rate of a point guard in basketball, a quarterback in football and a forward in hockey is far more when compared to the No. 3 or No. 4 batter in the lineup. Star players in the three other sports have a far greater impact on their team's performance than do players in baseball.
These next few guys may have something to say about that.
Angels outfielder Mike Trout (22 years old): This young man has transformed our view of baseball and how much impact a single player can have on an organization. He missed out on the American League MVP Award last year only because of a Triple Crown season for Miguel Cabrera.
Nationals outfielder Bryce Harper (20 years old): The phenom from Las Vegas came onto the big league stage a year ago when he won the National League Rookie of the Year Award. We haven't really seen his full potential yet, but many experts are predicting breakout seasons in the years to come.
Rays left-hander Matt Moore (24 years old): This young man has broken out to a blistering 14-3 start this year. He is one of the many great arms produced by the Rays and has become a solid No. 2 behind David Price.
Orioles third baseman Manny Machado (21 years old): From his amazing Brooks Robinson-like defensive play to his emergence as a solid No. 2 hitter, Machado has done it all in his first couple of years as a pro.
Pirates center fielder Andrew McCutchen (26 years old): The eldest of the group, McCutchen has proven himself to be an outstanding defensive outfielder and a consistent batter with nice pop.
The question is, "Who will emerge out of this group as the face of the baseball?" Trout's charisma and big-play ability could garner the attention of baseball enthusiasts. Harper's sheer determination and relentlessness (see him crashing into the wall at Dodger Stadium) are selling points. Moore's ability as a pitcher to shut down offenses and take over games will inspire many. Machado's consistency has earned him more fan support. McCutchen's speed and ability to take over games both on defense and on offense is breathtaking to watch.
The lack of a single star is not necessarily a bad thing. Rather, this notion exemplifies the idea that a hero can come from anywhere. Individuals don't win championships, teams do. Selfishness and arrogance don't win championships, teamwork and dedication do. Individuals are not the faces of baseball, teams are. And that is the beauty of baseball.
Adit Deshpande is an MLB Rewards Guest Columnist. This story was not subject to the approval of Major League Baseball or its clubs.