Moustakas diagnosed with strained left calf
Moustakas diagnosed with strained left calf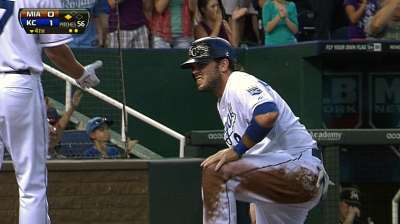 KANSAS CITY -- Royals third baseman Mike Moustakas went through tests on Tuesday morning to confirm that he has a left calf strain. He is listed as day to day, but is not expected to play in Wednesday's series finale against the Marlins.
"He feels better today," Royals manager Ned Yost said. "He was hobblin' but he's not hobblin' today. It wasn't hobblin'. He had a slight little limp and with a couple of days of treatment, we'll see where he's at. I don't know."
Moustakas beat out an infield single to first base in the fourth inning and started to feel some tightness in his calf after rounding third base to score on Justin Maxwell's triple. After playing defense in the top half of the fifth, Moustakas was lifted for pinch-hitter Jamey Carroll, who stayed in the game at third base.
"It was a lot more sore when I woke up this morning," Moustakas said. "Yesterday, it was feeling all right with the adrenaline, but today it was a little sore. I went and got a lot of treatment today and it feels a lot better. I'm able to walk around on it and put some pressure on it."
This is the second calf injury in three days for the Royals, who placed infielder Miguel Tejada on the disabled list with a strained right calf on Monday.
"I've never felt anything like that before, but it feels a lot better today," Moustakas said.
Moustakas has been a big part of the Royals' run to a 19-5 record since the All-Star break, hitting .293 in that stretch with 13 RBIs after batting just .215 previously.
Dick Kaegel is a reporter for MLB.com. Kathleen Gier is an associate reporter for MLB.com. This story was not subject to the approval of Major League Baseball or its clubs.