Yost gives Salvy break amid marathon stretch
Yost gives Salvy break amid marathon stretch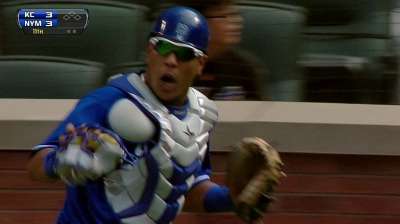 KANSAS CITY -- Catcher Salvador Perez was not in the Royals' starting lineup on Tuesday night against the Marlins. Nothing wrong with him, just getting a break.
"We're 14 days into a stretch where we play 44 games in 44 days," manager Ned Yost said. "With a day game coming tomorrow, give him a break where you can afford to give him a break."
Perez did catch the 10th and last inning as the Marlins scored the only run to win, 1-0, and he fouled out for the second out of the Royals' half of the inning.
Perez will be back in the lineup on Wednesday afternoon against the Marlins. He had missed a week because of a low-grade concussion and returned to play Sunday and Monday with no problems.
"He's feeling good. Went out and took a bunch of early hitting today," Yost said.
With a crucial five-game series at Detroit coming up, Yost wanted him ready to go. Perez is likely to catch four of the five games, skipping one of the two games to be played on Friday. Perez will catch whichever game of the doubleheader that James Shields pitches.
Perez's concussion came as a foul ball struck his protective mask and he decided to test the more elaborate hockey-style mask in the two starts since his return from the disabled list.
"Pretty good, but I don't like it as much as the other one," he said.
Even so, the All-Star plans to try the hockey mask some more before making a decision.
Dick Kaegel is a reporter for MLB.com. Kathleen Gier is an associate reporter for MLB.com. This story was not subject to the approval of Major League Baseball or its clubs.