Royals lose their grip in extras loss to Marlins
Royals lose their grip in extras loss to Marlins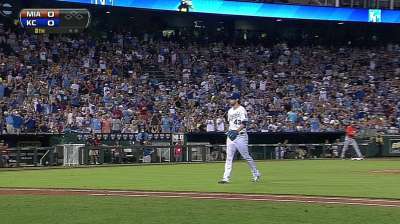 KANSAS CITY -- The beauty of this game was a scoreless pitching duel between the Royals' Bruce Chen and the Marlins' Jose Fernandez. Neither was on the mound when it ended.
For the Royals, the unlovely finish came in the 10th inning when Miami pushed across a run for a 1-0 victory on Tuesday night at Kauffman Stadium.
For seven innings, the rookie Fernandez and the veteran Chen hooked up in a classic scoreless pitching duel. Each gave up just three singles and each was pulled out of the game after the seventh.
"Phenomenal, both of them," said Royals manager Ned Yost. "It was just an old-fashioned pitching duel."
The Marlins' 10th began with Jake Marisnick being grazed by Kelvin Herrera's 0-2 delivery. It was a BHBP, barely hit by a pitch.
"That hit his shirt," catcher Salvador Perez said. "We were trying to come inside with the fastball. If he strikes him out, it's a different story. But that's baseball, no?"
Herrera had just come into the scoreless game after Royals closer Greg Holland pitched the ninth inning.
"I threw a two-seamer, it just ran in too much," Herrera said. "It's just a little hard to believe, but that was it."
Herrera struck out Jeff Mathis as Marisnick stole second ahead of Perez's throw.
"I think I made a good time to home, he just got a good jump," Herrera said.
Then, Christian Yelich grounded a single into right field on a 1-1 pitch and Marisnick scored easily.
"It was a tough night for both teams to try and score a run," Yelich said. "That was the time to push one across there. I was just trying to wait for a good pitch and I was able to find a hole."
Herrera ended the inning with two strikeouts. Marlins closer Steve Cishek gave up a one-out single to Alcides Escobar, but retired Perez on a foul fly and got Jamey Carroll to bounce into a forceout.
All of which meant the Royals, by losing for just the sixth time in 25 games since the All-Star break, had missed a chance to gain a game on first-place Detroit in the American League Central. The Tigers lost but the Indians won so, yep, they went back ahead of the Royals into second place.
It was the pitching duel that mesmerized the 21,094 fans for most of the evening.
"It was a great game, good pitching for both sides," said Escobar, who had two of the Royals' four hits.
For the first six innings, there wasn't a single solitary runner that got past first base. In the Marlins' seventh, Adeiny Hechavarria walked with two outs and stole second, but Chen struck out Marisnick to end the inning.
Fernandez retired 13 straight batters before Butler walked to open the seventh. Two outs later, Escobar singled and got Billy Butler to second but George Kottaras flied out.
Such efficiency was nothing new for Fernandez, a 21-year-old right-hander who was born in Cuba, defected in 2008 and went to high school in Tampa, Fla. Since June 1, his ERA of 1.65 is the lowest in the Majors. His 149 strikeouts are the most by any big league rookie.
"We kind of knew going in it was going to be like that," said the Royals' Eric Hosmer. "The kid's good, he's got three well-above average pitches, he commands them all, throws 'em all for strikes, knows what he's doing and has a good game plan up there. He was matching Bruce pitch-for-pitch and we just couldn't scratch one out. He's a good pitcher, he's going to be sticking around for a long time."
Fernandez threw 94 pitches and, cognizant of the Marlins' plan to limit him to about 170 innings this year, he had no quarrel with being lifted after the seventh.
"I would love to have gone eight or nine, but I've got an innings limit, as everybody knows," he said. "They want me to pitch longer in the year, so I think it was a good call."
Chen, the 36-year-old left-hander from Panama, has made six effective starts since coming out of the bullpen on July 12. In those six games, he has a 0.93 ERA and the Royals have won four times.
"I don't want to think too much about what I've been doing," Chen said. "I'm feeling good. I feel like sometimes when your team is playing well, you take your game to the next level. I'm feeling good and I just want to help this team in any way I can to help this team win. I think the fans deserve it, I think this organization deserves it and at the end of the day this team deserves it."
Aaron Crow took over for Chen in the eighth and, with one out, Yelich's grounder was stopped nicely by the lunging third baseman, Carroll. But Carroll apparently couldn't get a grip on the ball, double-pumped and Yelich had a single. He swiped second as Ed Lucas struck out and the threat ended as Crow slipped strike three past Stanton.
Logan Morrison, a Kansas City kid, led off the Marlins' ninth against Holland with a looping single to left field and was bunted to second by Placido Polanco. But Holland retired the next two batters.
In the end, a baseball nipped a jersey and led to a tough loss for the Royals.
"That's all right," Hosmer said. "Win the series tomorrow."
Dick Kaegel is a reporter for MLB.com. This story was not subject to the approval of Major League Baseball or its clubs.